This article is a stub! You can help Tommy and the others by expanding it!
Profile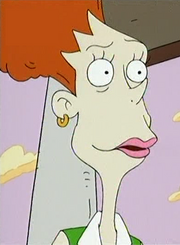 Name: Winifred
Nickname: Winnie
Gender: Female
Species: Human
Age: Unknown, probably 30's or 40's
Hair: Red
Parents: Barry (Father), Paulina (Mother)
Siblings: Unknown
Spouse(s): Sir Cedric
Children: Hedley (Daughter), Smedley (Son)
Other relatives: Betty DeVille (Cousin), Lil & Phil (Twin cousins)
Winifred  (voiced by Claire Jacobs) is Betty's British cousin (Winifred's mother's great aunt was Betty's great uncle's second cousin). She lives in London with her husband and kids. Winifred enforces strict rules on her twins, Hedley and Smedley, who are the same age as Phil and Lil. Her only appearance was in the episode "The Perfect Twins" where she spend almost the whole time giving Betty unwanted advice about how to raise Phil and Lil, dress them differently, enforce stricter rules on them to "make them work more as a team".
Gallery
You can find Winifred gallery here.