Wally Ramon is a minor character who appears in All Grown Up! She is the captain of the Jim Jr. Junior High soccer team, is close friends with Lil, and is the ex-girlfriend of Phil.
Description
She wears a short sleeve dress lilac and purple colors, also wearing high-heel shoes purple.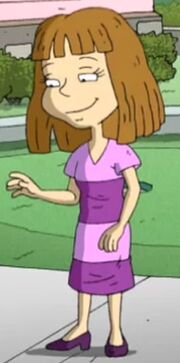 Relationships
Lil DeVille
Wally and Lil are the best of friends, and have one thing they have in common: There total love for soccer! And although they are the best of friends, Lil has hurt her feelings before out of jealousy but they eventually made up. Later, Lil invited her to attend her all-girl birthday slumber party.
Phil DeVille
Wally is not only friends with Lil, she has been friends with Phil ever since "A Deville House Divided." Unlike most girls, Wally develops a crush on Phil and enjoys all of his disgusting antics. Of course, in the end, Wally and Phil are both heartbroken when Lil manages to break them up, but they all learn to get along.
Trivia
She is the former love interest of Phil DeVille.
As mentioned in "Separate But Equal," Wally has never been to a DeVille birthday party. The separate party was her first.
As shown in "Separate But Equal," when a bat harasses Kimi, Lil, and Wally in the attic, Wally says, "Watch me catch it!" and chases it around the attic while Kimi and Lil run out. This implies that Wally is not afraid of bats.
Wally's mother allows her to shave her legs.
Gallery
You can view Wally's gallery here.