Check out my Rugrats/All Grown Up tetralogy "Lost in Manhattan"  at fanfiction.net! (I'd appreciate reviews too!)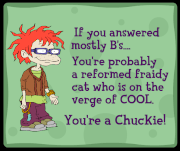 My favorite pages
My Favorite AGU Episodes
My Favorite Rugrats Episodes
R/AGU Merchandise I Own
The Rugrats Movie on DVD
Rugrats in Paris on VHS and DVD
Rugrats Go Wild on DVD
Decade in Diapers on VHS and DVD
A Rugrats Vacation on VHS
Runaway Reptar on VHS
All Grown Up... and Loving It! (DVD)
All Grown Up Seasons 2 and 3 on DVD
Plush Pre-Teen Chuckie!
The Rugrats Movie Collectibles
TRM Angelica Soft Pal
My R/AGU OTP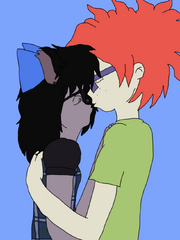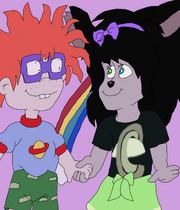 Shenzi Tuck (OC) x Chuckie Finster! I have no regrets choosing an OC x Canon couple for my OTP.
Origin
Initially, I only had a parody of Rugrats (with Shenzi having Chuckie's role), with no intentions of combining that world with the actual Rugrats world. But a while back, I had this idea where the parody characters meet the original characters, so I drew Shenzi and Chuckie as toddlers together. Ever since then, Sheckie just grew on me, and now I love it with a passion. <3 I've paired Shenzi with a handful of boys, but as of now, Chuckie's the best one, in my opinion.
I can't imagine Chuckie with anyone else other than Shenzi (especially Nicole), and vice versa.
Sheckie Stories
Completed
Lost in Manhattan
We Meet Again
High School Daze
Middle School Reunion (oneshot)
Happy Sweet... Second? (oneshot)
Tales From The Crib: Shenzirella (oneshot)
RV Having Fun Yet? BxB Version
Izzy Or Isn't He? BxB Version (oneshot)
A New Year (oneshot)
CF+ST- Sheckie Through A to Z
It's Cupid, Stupid BxB Version (oneshot)
In the Moonlight (Halloween oneshot)
In progress
Love At First Sight
Could It Be?
Lost in Love
Forever and Always
Upcoming
Chuckie's in Love, BxB Version (oneshot)
Movie/Show Parodies
Find these stories on my fanfiction account!
Other Sheckie Pics
Shenzi's Info
Shenzibeth Callie-Belle Tuck
Also Known As
Shenzi Tuck
Gender
Female
Birth Date
August 27th, 1989
Age
2 (Rugrats)

12 (All Growed Up)

11-12 (All Grown Up series)

Occupation
Jim Jr. Junior High Student (All Grown Up)
Interests
Playing with her friends and family, spending time with her family, basketball, shopping, Goth/Emo culture
Relatives
Friar Tuck (father)

Felicia Tuck (mother)

Frankie Tuck (sister)

Maya Tuck (biological mother; deceased)

Jack Johnson (biological father)

Friends
Chuckie Finster

Her stepsister Frankie

Fridge Kaminski

Tommy Pickles

Kimi Finster

Phil DeVille

Lil DeVille

Susie Catmichael

Angelica Pickles (sometimes)

Enemies
Angelica Pickles (sometimes)

Vice Principal Pangborn

Samantha Shane (formerly)

Jack Johnson

Voice Actor
Lizzie Murray
First Appearance
Lost in Manhattan (fanfic)

Gallery
Gallery
My Favorite Character