This article is a stub! You can help Tommy and the others by expanding it!
Steve
Name
Steve
Gender
Male
Species
Human
Occupation
Snack bar attendant, spectator, stockboy, painter,usher, mover, high school student
Interests
Working at different jobs
Relatives
(none known)
Friends
Larry
Enemies
(none known)
First Appearance
At the Movies
Voiced by
Scott Menville
Description
Steve has been occupied as a concession stand attendant in At The Movies, a supermarket stockboy in Incident in Aisle Seven, and a painter in Together at Last. He and Larrywere seen as students in Didi's class in Little Dude, where they refuse to change Tommy's diaper. They were also customers at Stu and Didi's Garage Sale. After failing as painters, Steve in Reptar's Revenge it is possible that Steve could be seen at the end.
More recently, the two young men work as movers, and each now had a voice change. In addition, Larry works at Zippy's Deli in Angelica Orders Out. It is not specified, but it is possible that he or most likely Steve also acted as "Piggy" at Piggy's Pizza Palace, although we can only hear his voice.
Looks
Steve is short and has short, black hair and wears a blue vest.
Appearances
Steve has appeared in several episodes of Rugrats. His first appearance was in At the Movies.
Steve has also appeared in Rugrats: Search for Reptar
Gallery
You Can Find Steve (Character)/Gallery Here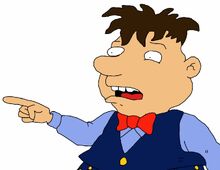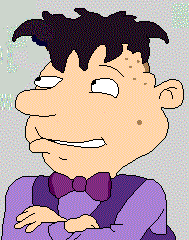 Community content is available under
CC-BY-SA
unless otherwise noted.