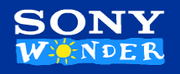 Sony Wonder was the children's division of Sony Music Entertainment from 1993-1996. Rugrats was distributor than other Nickelodeon Shows.
Sony Wonder (founded as Sony Kids' Music) is the kids and family entertainment arm of Sony Pictures Home Entertainment.
On July 6, 1993, Sony Wonder acquired video distribution rights to Nickelodeon's series. They released videos and soundtrack albums of the shows from then until 1996, two years after Viacom's purchase of Paramount Pictures. After Sony Wonder's contract with Nickelodeon expired, Nickelodeon videos from then on were mainly distributed by Paramount Home Media Distribution. Although Sony Wonder no longer distributes Nickelodeon videos and albums, current album releases under the Nick Records label are now distributed by Sony Music Entertainment.
Community content is available under
CC-BY-SA
unless otherwise noted.