Game
There's no place like home... even when playing with the Rugrats in the Land of Odd. Tommy and the gang appear in their very own graphical board game based on 
The Wizard of Oz
. Play with Kimi as The Girl from Kansas, Chuckie as The Scaredy-Cat Lion, Tommy as The Scarecrow, and Phil and Lil as The Tin Twins. The first to find The Whizzer of Odd--Grandpa Lou--wins the game, but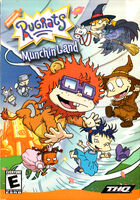 beware... many obstacles stand in the way. There's The Munchin Tollbooth Keeper, played by Dil, and The Wicked Witch of the West, played by Angelica, of course. Fortunately, Susie plays The Good Witch, and she'll provide all the help you need. Journey to Munchin Land, Fields of Folly, Mystery Forest, Stinky Swamp, and Marigold City. Each land comes complete with a logic puzzle, picture puzzle, twitch-action challenge, and a great grab challenge. 
Review
This game is a gem-- a sheer delight that drops the adorable Rugrats babies into a fun, multilevel, Wizard of Oz-themed gameboard game. Chuckie is the "Scaredy Cat Lion", Tommy is the "Scarecrow", and guess who plays the Wicked Witch of the West? One or two player modes let kids race to find the "Whizzer of Odd" as they spin the spinner to travel around a wild gameboard. As they play, children collect pieces of a ticket to Munchin Land and Golden Paciflyers to pay the tolls. Three challenge levels plus mini games add to the fun, and the program's humor and graphics are excellent. Testers, boys and girls aged 6-9, loved the game. Older kids grew slightly bored with the "boardgame" theme. --From Children's Software Revue® -- "Subscribe Now!"
Trivia
Like the episode "No Place Like Home", this game is a parody of The Wizard of Oz, except this time, Kimi is in the role of Dorothy, while Susie plays Glinda the Good Witch.
Video
Community content is available under
CC-BY-SA
unless otherwise noted.