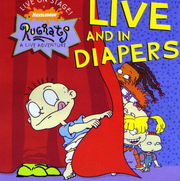 Rugrats: A Live Adventure is a live touring show based on Rugrats. It toured in the United States, Mexico, Britain, Ireland and Australia from February 6, 1998, to May 14, 2000. The show was sponsored by L'Oreal, M&M's Minis (through December 1998), and PlayStation (1998-1999).
Plot
The show starts with the movers Astoria, Larry, and Steve asking the audience what venue they're in. Grandpa Lou comes in to order the movers around, when he falls asleep while telling a story. While he sleeps, the movers perform The Mover's Rap. After that, a diaper on a string with a screen comes down and displays the Rugrats opening theme, with it being live and including an upbeat theme.
After the song, Stu and Didi arrive back to their home and out of the rainstorm, which frightens Chuckie. Angelica scares him even more by saying the thunder is the sound of Reptar coming to get him. Tommy, Phil, and Lil sing him Nothing To Be Escared Of. Later, in Stu's workshop, he invents the "Parentalator 9000", designed to watch children while they're parents are away. Tommy in the workshop as well invents the "People-ator" for Chuckie, made from a ball and a paper towel tube, and can animate objects for him if he's scared. Tommy and Stu then sing A Great Idea Can Change The World.
Unfortunately, Stu's invention causes a power outage in the house, which scares Chuckie again, so he uses the People-ator to turn a flashlight into a living thing. "Mr. Flashlight" reminds him to "Shine Your Light" whenever he's scared, and eventually the power comes back on. Chuckie gets scared again after Phil and Lil fight for cookies that Didi gave to Stu, and so a gospel choir walks in to perform Shine Your Light once again. Tommy uses the People-ator to turn inanimated objects into animated objects, and once the choir's performance ends, Angelica steals his creation from him. That's when a 40's-esque singer performs I've Been A Bad Little Girl. They attempt to get it back from her, but that's when Angelica becomes self-proclaimed Princess Of The World. She makes the Rugrats play "Princess Angelica Says", and then she brings Reptar to life.
After the intermission, where the movers are back and try to pronounce "Reptar", when the babies come and sing them He's Reptar. Later on, the babies go out in the rain, where they meet Susie in her red wagon converted into a pirate ship. She invites them on board with the musical number Everybody Say. Tommy and Susie eventually catch up to Angelica, who turned regular bees into large, talking bees that sing the Bee Samba. Tommy decides to climb the "Entire State Building", which is in reality, is just a box. Chuckie was hesistant at first, but he climbed anyway, and when he realized he was in space, he wasn't scared. The two sing about their friendship with If I Could Count To Two when Reptar reaches the building and topples them to the ground.
Tommy and Chuckie go upstairs where Grandpa is still asleep, and Stu is still working on his invention. In Tommy's room, Angelica thinks she's The Princess Of The World', and thinks she taken over the Toy Palace. When Tommy comes to the room, she turns him into a doll, and makes Chuckie ride on the toy train. Susie comes in and tells her to turn Tommy back into a real person, but she ignores her. Mr. Flashlight comes back and tells Chuckie to be brave, which encourages him to ride Reptar back to Angelica, and he gets the People-ator back and turns Tommy back alive. They perform a reprise of If I Could Count To Two again.
After, Chuckie forces Angelica to apologize, when Stu and Didi return. Stu explains his Parentalator 9000, but while doing so, Didi tells him to clean up the playroom. And then, Angelica, to her disgust, gets a kiss from Chuckie. During the finale, the show's cast comes on stage to take their final bows, while the movers perform The Mover's Rap again. After that, the diaper screen comes down and shows Reptar winking and smiling.
Songs
The Mover's Rap
Rugrats Theme
Nothing To Be Escared Of
A Great Idea Can Change the World
Shine Your Light
I've Been a Bad Little Girl
Princess Of The World (Part 1)
Princess Angelica Says
If I Could Count To 2
He's Reptar!
Everybody Say
Shine Your Light (Gospel version)
Bee Samba
Princess of the World (part 2)
If I Could Count To 2 (Encore)
"I've Been A Bad Little Girl" and "Princess Angelica Says" are not included on the soundtrack album.
Cast
The following is the list of people who played the characters in the show.
Note: The voices of the Rugrats, Stu & Didi are the same as the ones in the TV series; these voices were pre-recorded in advance.
Astoria - Cari Daly
Larry - Angel Feliciano
Steve - John Paolillo
Mr. Flashlight & Space Alien Puppeteer - Layton Campbell
Hammer & Baby Mobile Dancer - R. Nation Boothe
40's singer & Baby Mobile Dancer - Samantha DeCerce
Opera Diva & Tin Snips - Jason Michael Swauger
Didi - Maggie Da Silva
Stu - Michael A. O' Guin
Grandpa Lou & Baby Mobile Dancer - Todd Bowers
Lil* - Nanette Michelle
Lil* & Baby Mobile Dancer - Jaimie Hollmer
Phil* - Di Ana Pisarri
Phil* & Queen Bee & Baby Mobile Dancer - Tamara Paulino
Tommy* & Baby Mobile Dancer - Thea Rachel Schoenberg (credited as "Thea Rachel" in the program & soundtrack credits)
Tommy* - Jenine Galante
Angelica* - Melissa Muniz
Angelica*, Bee, Nuts & Bolts - Kara McKee
Chuckie* & Baby Mobile Dancer - Staci LaRue
Chuckie* - Diannè Aldrich
Susie & Walking Kitty Toy - Tammy Samuels
Space Alien Puppeteer & Baby Mobile Dancer - Jennifer Rapp
Female lead understudies - Alayna Deckelbaum, Jennifer Rapp, Katie Carpenter
Male lead understudies - Michael Dykes, R. Nation Boothe * : The roles of Tommy, Chuckie, Phil, Lil & Angelica are "double-casted"; 2 people play the same part -- one in one scene, the other in another scene. These actors wear oversized costumes of the characters (larger than the Rugrats on TV), which tend to get hot inside. Also, the actors see out of the mouths of the head, so the peripheral vision is non-existant.
Trivia
The episodes that were related in the live show were "Toy Palace" (Season 2), "The Slide" (Season 2), "Princess Angelica" (Season 3), "No More Cookies" (Season 3), "Destination: Moon" (Season 3), "Reptar 2010" (Season 3)
A lot of staff members that worked on the first tour (February 6th, 1998 through December 13th, 1998) received many injuries, particularly due to the massive abundance and weight of the costumes and the set. Because of this, they went to seek medical help, and the set was tinkered a little and was made less complicated for the rest of the tour. This may have also been why a lot of tour dates were pushed back slightly or cancelled.
External links
Video Clip
Community content is available under
CC-BY-SA
unless otherwise noted.