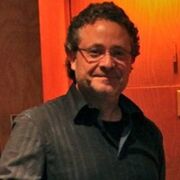 Robert Vosgien graduated from Berklee School of Music in 1984 with a degree in Audio Recording. In 1985 he moved from Boston to Los Angeles and accepted a position at Capitol Studios where he was quickly promoted and began his mastering career in the early days of the compact disc format.
An accomplished guitar player and aficionado of vintage guitars and Marshall amps, it is no coincidence that Robert has mastered some of the finest guitarists in the business including Larry Carlton, Lee Ritenour, Gary Hoey and Christopher Parkening. However, one look at Robert's discography and it becomes readily apparent that he is one of the most versatile mastering engineers in the business today. Tackling projects made with the smallest budgets to the largest, his unique blend of musical creativity and technical expertise enables him to get the most out of any genre of music.
For over twenty years, Robert has put his stamp on some of the biggest hits in popular music including OK GO, The Goo Goo Dolls, James Taylor, Bob Seger, Green Day, Frank Sinatra,The Wallflowers,Chris Botti, Fourplay, Bush, The Sick Puppies , Selena Gomez, Miley Cyrus/Hannah Montana and the 20 million units sold hit "Tragic Kingdom" by No Doubt.
Community content is available under
CC-BY-SA
unless otherwise noted.