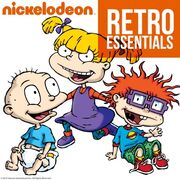 Retro Essentials is a digital DVD released in 2012, it contains five episodes from season one, two episodes from season two, two episodes from season four.
Synopsis
A baby's gotta do what a baby's gotta do! So join the Rugrats when they break out of the playpen for more diaper days adventures! It's time for Tommy's first birthday and Didi, Stu, Betty, and Howard are planning to throw him the best party ever! But ya know, the "bravliest" baby has more important plans for himself and the other tots - like dining on Spike's yummy (eeewww) dog food. But wait, it's not the babies' bedtime yet! They're going to the movies. Can the rugrats sneak off and see the Reptar movie instead of watching the Dummi Bears film with their parents? And Tommy and Chuckie are in for more trouble after catching Stu sleepwalking. They've watched scary movies and are afraid he might be a robot! Plus, there's a whole lot more in this collection, like Chuckie's first haircut, Angelica at camp, and the babies' trip to the carwash! So hang on to your diapees, we're goin' in!
Episodes
3a "At the Movies"
3b "Slumber Party"
8a "Real or Robots?"
8b "Special Delivery"
41a "Chuckie's First Haircut"
41b "Cool Hand Angelica"
72a "The Carwash"
72b "Heat Wave"