Tags: apiedit, Visual edit

(5 intermediate revisions by one other user not shown)
Line 1:
Line 1:
−

'''Drew and Charlotte Pickleses House''' is a house in the neighborhood where Drew and Charlotte Pickles along with their daughter Angelica reside.[[File:Angelica's_House.png|thumb]]

+

'''Drew and Charlotte House''' is a house in the neighborhood where Drew and Charlotte Pickles along with their daughter Angelica reside.[[File:Angelica's_House.png|thumb]]

 
+
−

[[Category:Houses]]

 
 
+

== Exterior ==

 
+

Compared to the other residences with Rugrats kids, this Pickles household is an ordinary gable-style house with cream-colored walls with stony accents at the base, and a turquoise roof, and has two dormers: one peeking from the roof on the front side, and the other extending from the first floor to the roofline and has a large window.

 
+
 
+

== Interior ==

 
+

The interior when compared to the other Pickleses' home appears to be fancier. The living room appears more spacious, is well-furnished with paintings and a stylish hanging lamp, a stereo, lounge chairs, and has a lounging area within the window. Angelica's bedroom appears to be very fancy and well-decorated, has a vanity dresser, and is filled with toys, including her [[Cynthia]] doll she regularly relies on.

 
+
 
+

== Vehicles ==

 
+

Angelica has a burgundy BMW-style toy car with the license plate "ANGEL 1" written on it. In earlier episodes, Charlotte also had a burgundy BMW 325i convertible as a real car counterpart to Angelica's toy car. Drew has a BMW 5-series in several episodes as well as the Rugrats Movie, and the color varies from episode. Charlotte and Drew also have a blue Toyota Previa minivan.[[Category:Houses]]

 

[[Category:Locations]]

 

[[Category:Locations]]

 

[[Category:Places]]

 

[[Category:Places]]
---
Revision as of 04:49, 25 August 2017
Drew and Charlotte Pickles House is a house in the neighborhood where Drew and Charlotte Pickles along with their daughter Angelica reside.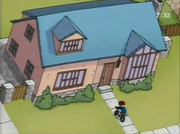 Exterior
Compared to the other residences with Rugrats kids, this Pickles household is an ordinary gable-style house with cream-colored walls with stony accents at the base, and a turquoise roof, and has two dormers: one peeking from the roof on the front side, and the other extending from the first floor to the roofline and has a large window.
Interior
The interior when compared to the other Pickleses' home appears to be fancier. The living room appears more spacious, is well-furnished with paintings and a stylish hanging lamp, a stereo, lounge chairs, and has a lounging area within the window. Angelica's bedroom appears to be very fancy and well-decorated, has a vanity dresser, and is filled with toys, including her Cynthia doll she regularly relies on.
Vehicles
Angelica has a burgundy BMW-style toy car with the license plate "ANGEL 1" written on it. In earlier episodes, Charlotte also had a burgundy BMW 325i convertible as a real car counterpart to Angelica's toy car. Drew has a BMW 5-series in several episodes as well as the Rugrats Movie, and the color varies from episode. Charlotte and Drew also have a blue Toyota Previa minivan.