This article is a stub! You can help Tommy and the others by expanding it!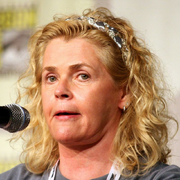 Pat Musick (born 1956) is an American voice actress and actress. She and her husband Jeff Whitman, a personal manager and set construction co-ordinator, are the parents of actress and singer Mae Whitman.
Filmography
Television
All Grown Up - Harold Frumpkin and Edith
Avatar: The Last Airbender - Haru's Mom
Batman: Brave and the Bold - Martha Wayne
Curious George - Ms. Klopotznick, Mrs. Dewey, Old Woman, Little Girl
Darkwing Duck - Female Kid
Disney's Adventures of the Gummi Bears - Ursa Gummi
Disney's House of Mouse - Fiddler Pig, Slimy, Flasher
Duckman - Fluffy & Uranus (later Charles)
Ducktales - Bully Beagle, Umpire
Extreme Ghostbusters - Janine Melnitz
Johnny Bravo - Additional voices
New Kids on the Block - Additional voices
The Buzz on Maggie - Dawn's lackeys, Ugly Bug
Saber Rider and the Star Sheriffs - April Eagle
SpaceCats - Dementia DeFortino
Superman: The Animated Series - Mother, Guardian #2
Sylvester and Tweety Mysteries - Mary Ann
The Further Adventures of Superted - Prince Rajeesh
The Smurfs - Snappy Smurf (1985-1989)
Teenage Mutant Ninja Turtles - Mona Lisa
The Twisted Tales of Felix the Cat - Additional voices
The Life and Times of Juniper Lee - Eloise
The Tick - Meriem Brunch: The Mad Nanny, The Bee Twins, Tuun-La: Not of this Earth
ThunderCats - Albo
Wake, Rattle, and Roll - Angel, Elsa
Where's Waldo - Additional voices
Films
Video games
External links
Community content is available under
CC-BY-SA
unless otherwise noted.