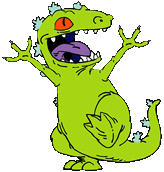 This is a list of parodies on
Rugrats.
List of Parodies within the Rugrats Universe
America's Wackiest Home Movies is a parody of America's Funniest Home Videos.
Di da bona is the parody of Vin De Bona
Reptar is a parody of Godzilla.
Cynthia is a parody of Barbie (and her various accessories and playsets).
Cynthia Entertainment and Powerframe Entertainment is a parody of Barbie Entertainment and Mainframe Entertainment.
The Dummi Bears is a parody of the Care Bears.

Blocky & Oxwinkle is a parody of Rocky and Bullwinkle.
The Dimstones is a parody of The Flintstones.
The Dimstones Kids is a parody of Flintstones Kids.
The Stetsons is a parody of The Jetsons.
The Mega Hyper Heroes are a parody of the Fantastic Four.
The Sesame Seed mentioned in "Toys in the Attic" is a parody of Sesame Street.
Buck E. Bee's Piggy's Pizza Palace, and Pizza Puppet Palace are parodies of Chuck E. Cheese's.
Science Zone is also parody of Discovery Zone.
Forte Magic is also known as Major Magic.
Barg-N-Mart is also known as Save-A-Lot.
Ronald Thump is a parody of current President of the United States Donald J. Trump.
Allen Quebeck is a parody of Alex Trebeck.
The Masked Detective/Defective is a parody of The Green Hornet.
Easy Cook is a parody of Easy Bake.
Wilmer's Moo Glue is a parody of Elmer's Glue.
Yu-Gotta-Go is a parody of Yu-Gi-Oh.
Perpi is a parody of Pepsi.
Peppo is parody of Crest.
Space Trek Babies is a parody of Star Trek
Space Trek Babies: The Next Generation is a parody of Star Trek: The Next Generation
Motel Styx is a parody of Motel 6.
Ancient Spice is a parody of Old Spice.
Westside Octoplex is a parody of AMC, Rave, Cinemark, Regal, Carmike, Blanky, and Movieplex.
Home is a parody of Lowe's The Home Depot and Menard's.
List of Rugrats Parodies in Other Media
In the TUGS segment, "Otis the Movie Star" from the Salty's Lighthouse episode, "Sound Off", Mr. Boffo and Mr. Socco tell Captain Star about their past movies, one of which is entitled, "Tugrats".
A promo for the Cartoon Network show, Cow and Chicken features the two titular characters sitting on chairs at a desk. The (unseen) Cartoon Network boss gives ideas for the plot of the show they'll be in. One of these is a parody of Rugrats entitled, "Carpet Bunnies", with a logo that strongly resembles the Rugrats logo. Chicken is seen dressed as Tommy, and Cow is seen dressed as Chuckie. While Cow squirts the screen with udder milk, the boss says, "Here's what we're thinking for your new show; Carpet Bunnies: Little tiny babies who can hardly talk but all this complicated stuff happens to them anyway." Chicken responds by saying, "That's stupid!".
The Fairly OddParents had a parody of Rugrats in the TV movie Channel Chasers and renamed it Carpet Critters.
Animaniacs also had a parody of Rugrats in the intro with the Animaniacs characters as babies and renamed it Animani-rats.
In the Arthur episode The Secret Life of Dogs and Babies', Arthur and D.W. were watching a cartoon that was a parody of Rugrats, with Angelica named Veronica and Tommy named Bucky. Phil and Lil and Chuckie-like characters were also present, but their names were not mentioned.
In the Robot Chicken episode "Link's Sausages", one of the segments in this episode that is called "A Rugrats Joke" features the Rugrats in it. With Tommy, Chuckie (doesn't speak), Phil (doesn't speak), Lil (doesn't speak), Didi, and Stu. In this segment, Didi and Stu are getting in a fight.
In the The Loud House episode, "Linc or Swim", Lou Pickles makes a cameo appearance. He is seen in the first community pool, alongside Iroh from Avatar: The Last Airbender, Ms. Bitters from Invader Zim, Miss Fowl from The Adventures of Jimmy Neutron: Boy Genius, and Phil Shortman from Hey Arnold!.
In The The Loud House episode, "Driving Ambition", in a fantasy sequence, the youngest of Lori and Bobby's future eleven children is seen wearing a light blue t-shirt and a diaper, the same outfit of Tommy Pickles.
In a Family Guy episode, Stewie made a reference to Mr. Boppo from the episode "Give and Take"; he also references the name in one episode.
In the Family Guy episode "And I'm Joyce Kinney", in a cutaway gag where Lois keeps tickling Stewie then pukes on him, his outfit looks the same as Tommy Pickles' outfit from Rugrats, a blue shirt and a diaper.
Gallery
You can find Parodies gallery here.
Videos
Community content is available under
CC-BY-SA
unless otherwise noted.