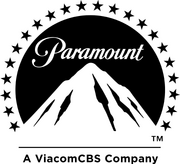 Paramount Pictures Corporation (commonly known as Paramount Studios or simply Paramount, and formerly known as Famous Players-Lasky Corporation) is a film studio, television production company and motion picture distributor, consistently ranked as one of the "Big Six" film studios of Hollywood. It is a subsidiary of U.S. media conglomerate ViacomCBS. Paramount is a member of the Motion Picture Association of America (MPAA).
In 2014, Paramount Pictures became the first major Hollywood studio to distribute all of its films in digital-form only.
Paramount is the fifth oldest surviving film studio in the world, and America's oldest running studio, founded in 1912.
Paramount Pictures is the distributor of several VHS tapes and DVD's, as well as the movie series.
Gallery
Logos
External link
Community content is available under
CC-BY-SA
unless otherwise noted.