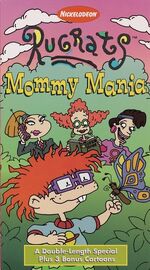 Mommy Mania is a Rugrats VHS to be released April 7, 1998 by Paramount Home Video and Nickelodeon. On The Loose
Episodes
Cast
Gallery
You can find Mommy Mania VHS Gallery here.
Contents
The Rugrats Movie 1998 Teaser Trailer
Rugrats: A Rugrats Vacation/Diapered Duo/Dr. Tommy Pickles 1998 VHS Trailer
It Was My Best Birthday Ever, Charlie Brown! 1997/1998 VHS Trailer
Paramount means Family Entertainment 1997/1998 VHS Trailer
Blue's Clues 1998 VHS Trailer
Paramount Feature Presentation/FBI Warning Screen
Paramount Logo
Nickelodeon Montage Bumper
End Credits
Klasky Csupo Graffiti Logo
Nickelodeon Flower Logo
Paramount Logo
Back cover
"Who's always there to wipe your nose and kiss your boo-boo...to rescue you from your sagging diaper...to make sure you don't eat too many bugs? Why, it's Mom."
Mother's Day (Double-length Episode): "Everybody has a mommy to love on Mother's Day. Except Chuckie. In this moving double-length episode, Chuckie learns at last where his mother went and why, in a special way, she's still very close."
Game Show Didi: "Her opponent on the Super Stumpers quiz show may be a genius, but Didi has a big advantage. Well, actually, they're little and they're headed for the control room right now."
Family Feud: "Tommy's parents have had a huge falling-out with Phil and Lil's folks. Can the Rugrats get the grownups to stop acting like children?"
Mommy's Little Assets: "Charlotte knows how to deal with troublemakers at the office. But she can't fire these two because, for one thing, they're Angelica and Tommy."
Community content is available under
CC-BY-SA
unless otherwise noted.