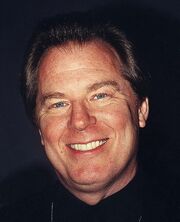 Michael John McKean (born October 17, 1947) is an American actor, comedian, screenwriter, and musician known for various roles in film and television such as Lenny Kosnowski in Laverne & Shirley, David St. Hubbins in This Is Spinal Tap, and Chuck McGill on Better Call Saul.
McKean's breakout role was annoying neighbor Lenny Kosnowski on the sitcom Laverne & Shirley. He played David St. Hubbins, lead vocalist and co-lead guitarist of the fictional rock band Spinal Tap in This Is Spinal Tap and had roles in several Christopher Guest ensemble films. He co-wrote the song "A Mighty Wind" (for the Guest film A Mighty Wind), which won a Grammy Award for him, as well as "A Kiss at the End of the Rainbow" from the same film, which was nominated for the Academy Award for Best Original Song. McKean was a cast member on Saturday Night Live for its 19th and 20th seasons in the mid-1990s.
McKean portrayed Chuck McGill, brother of Saul Goodman, on the AMC drama series Better Call Saul, for which he has received a Primetime Emmy Award nomination for Outstanding Guest Actor in a Drama Series in 2019. In 2020, he starred alongside Martin Freeman in the parental comedy series Breeders. He is starring as the voice of Lou Pickles in the Rugrats revival, replacing the late Joe Alaskey.
Early life
McKean was born October 17, 1947, in New York City at Manhattan Women's Hospital, now part of the Mt. Sinai St. Luke's complex on Amsterdam Avenue. He is the son of Ruth Stewart McKean, a librarian, and Gilbert S. McKean, one of the founders of Decca Records, and was raised in Sea Cliff, New York, on Long Island. McKean is of Irish, English, Scottish, and some German and Dutch descent. He graduated from high school in 1965. In early 1967, he was briefly a member of the New York City "baroque pop" band The Left Banke and played on the "Ivy, Ivy" single (B-side: "And Suddenly")

Career
McKean began his career (as well as the characters of Lenny and Squiggy) in Pittsburgh while a student at Carnegie Mellon; David Lander was a fellow student at CMU. Their partnership grew after graduation as part of the comedy group The Credibility Gap with Harry Shearer in Los Angeles, but McKean's breakthrough came in 1976 when he and Lander joined the cast of Laverne & Shirley portraying Lenny and Squiggy. McKean directed one episode, and the characters became something of a phenomenon, even releasing an album as Lenny and the Squigtones in 1979, which featured a young Christopher Guest on guitar (credited as Nigel Tufnel—the name Guest would use a few years later as part of the spoof rock band Spinal Tap). "Foreign Legion of Love" was a big hit for the Squigtones, with frequent play on the Dr. Demento Show. McKean also played his character in an episode of Happy Days. After leaving Laverne & Shirley in 1982, McKean played David St. Hubbins in the comedy This Is Spinal Tap with both Guest and Shearer, and appeared in the spoof Young Doctors in Love.
McKean quickly became a recognizable name in film and television, with appearances in films such as Used Cars (1980), Clue (1985), Planes, Trains and Automobiles (1987), Earth Girls Are Easy (1988), and taking a lead role in Short Circuit 2 (1988).
Trivia
External links