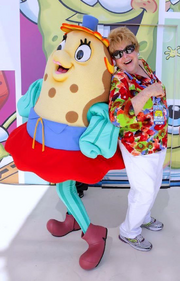 Mary Jo Catlett (born January 2, 1938) is an American film, stage and television actress. She is notable for her role as housekeeper Pearl Gallagher on the television sitcom Diff'rent Strokes, and currently for her role as Mrs. Puff in SpongeBob SquarePants, which she has held since the show's debut.
Early life and education
Catlett was born in Denver, Colorado, the daughter of Cornelia M. (née Callaghan) and Robert J. Catlett.
Career
Catlett appeared on General Hospital (for which she was nominated for a Daytime Emmy Award) and in several episodes of the television sitcom series M*A*S*H. She provided the voice of Mrs. Puff in the animated television series SpongeBob SquarePants, as well as the related film The SpongeBob SquarePants Movie (2004). In 2002, she was nominated for The Annie Award for Best Voice Acting by a Female Performer in an Animated Production for SpongeBob SquarePants.
She also provided the voice for Cousin Larry's mother on the animated television series Kim Possible. Mary Jo Cattlet has also provided voices for Rugrats as Doreen, The Smurfs, Quack Pack and Extreme Ghostbusters.
She is also known, prior to her role on Diff'rent Strokes, for the commercials she did for Black Flag and its pest-control products, particularly the Roach Motel brand.
Her many television guest roles include appearances on episodes of That's So Raven, Glee and Desperate Housewives. She played wrestler "Terrible Tessie" in the first season Starsky & Hutch episode "The Omaha Tiger", and as "Cousin Alice", the slow-witted but well-meaning relation of an old acquaintance of the Duke family in the first season Dukes of Hazzard episode "Swamp Molly".
She had a voice role on the "American Dream Factory" episode of American Dad!. Catlett appeared in feature films including Serial Mom, The Benchwarmers and Beethoven's 5th. She has appeared in an episode of 2 Broke Girls with other veteran character actresses and guest starred on Shake It Up.
Community content is available under
CC-BY-SA
unless otherwise noted.