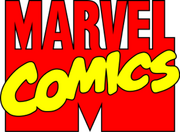 Marvel Comics
is the common name and primary imprint of
Marvel Worldwide Inc.
, formerly
Marvel Publishing, Inc
. and
Marvel Comics Group
, a publisher of American comic books and related media. In 2009, The Walt Disney Company acquired Marvel Entertainment, Marvel Worldwide's parent company.
Marvel started in 1939 as Timely Publications, and by the early 1950s, had generally become known as Atlas Comics. The Marvel branding began 1961, the year that the company launched The Fantastic Four and other superhero titles created by Stan Lee, Jack Kirby, Steve Ditko, and many others. Marvel counts among its characters such well-known superheroes as Spider-Man, Wolverine, Hulk, Thor, Doctor Strange, Iron Man, Captain America, Black Panther and Daredevil, including such teams as the Avengers, the X-Men, the Guardians of the Galaxy, and the Fantastic Four, and antagonists such as Venom, Doctor Doom, Red Skull, Green Goblin, Thanos, Ultron, Doctor Octopus, The Collector, Magneto, Abomination, and Loki. Most of Marvel's fictional characters operate in a single reality known as the Marvel Universe, with locations that either mirror real-life cities or are fictional places. Characters such as the Avengers, the Fantastic Four, the Defenders, Spider-Man, Daredevil, Jessica Jones, Luke Cage, Iron Fist, Doctor Strange, and other Marvel superheroes are based in New York City, whereas the X-Men have historically been based in Westchester County, New York. Black Panther has operated in his home country of Wakanda, the Inhumans home have always been their royal capital of Attilan, the Guardians of the Galaxy traverse through the cosmos in their ship the Milano, Gambit's stories tend to be set in New Orleans, and Hulk's stories often have been set in the Southwestern United States.
Community content is available under
CC-BY-SA
unless otherwise noted.