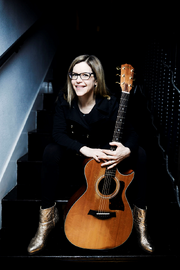 Lisa Anne Loeb (/loʊb/; born March 11, 1968) is an American singer-songwriter and actress. She launched her career in 1994 with the song "Stay (I Missed You)", which was included in the film Reality Bites. She was the first artist to have a number one single in the United States while not signed to a recording contract. Her five studio CDs include her major label debut, the gold-selling Tails and its follow-up, the Grammy-nominated, gold-selling Firecracker.
Loeb has also worked in film, television, voice-over work and children's recordings. Loeb has appeared in two television series, Dweezil & Lisa, a weekly culinary adventure for the Food Network and Number 1 Single, a reality show on the E! Network in 2006 focused on her quest for love, success, career, and family.
Her children's music includes the albums Catch the Moon (2003), and Camp Lisa (2008). Her first joint children's book and album Lisa Loeb's Silly Sing-Along: The Disappointing Pancake and Other Zany Songs was published in 2011. In 2010 she founded the Lisa Loeb Eyewear Collection, which is based on her own designs. She co-wrote the lyrics and music to Camp Kappawanna, a family musical that was premiered in New York on March 21, 2015 by the Atlantic Theater Company. Loeb's third children's album, Nursery Rhyme Parade!, was made available on October 16, 2015.
Early life and education
Lisa Loeb was born in Bethesda, Maryland on March 11, 1968. She was raised in Dallas, Texas with her three siblings, all of whom became involved with music: conductor Benjamin Loeb, musician Debbie Loeb, and mix engineer Philip Loeb. As of 2012, her parents continue to live in Dallas. Her mother Gail was the president of the Dallas County Medical Society Alliance and Foundation and her father, Dr. Peter Loeb, is a gastroenterologist. She was raised in a Jewish family. As a child, she studied piano, but later switched to guitar. She attended The Hockaday School, an all-girls private school. For three years she had her own radio show on 88.5 KRSM-FM, a 10-watt station licensed to the nearby all-boys St. Marks School of Texas. After graduating from high school in 1986, she went to Brown University, where she graduated in 1990 with a degree in comparative literature.
Media appearances
Guest appearances
Loeb has made several guest appearances on television shows such as The Nanny in 1997, and Cupid, the following year. In September 1999, she made an appearance on the comedy show MADtv, singing the theme song for a WB drama sketch called "Pretty White Kids with Problems." In 2007, Loeb appeared on an episode of Jack's Big Music Show singing the song "Jenny Jenkins." In 2008, she made a guest appearance on Gossip Girl, followed by a cameo on an episode of The Sarah Silverman Program—where the cast formed a mock band called the "Loeb Trotters." On the final episode of Gossip Girl on Monday, 17 Dec 2012, Lisa ended up with the character Rufus Humphrey in the five years after glimpse.
In addition to television shows, Loeb has also appeared in the horror films House on Haunted Hill (1999), Serial Killing 4 Dummys (1999), and Fright Night (2011). She has done voice work including the voice of Mary Jane Watson for the animated show Spider-Man: The New Animated Series, broadcast on MTV. Loeb also voiced the character of Lutina in the video game Grandia Xtreme and characters for The Rugrats Movie and Shorty McShorts' Shorts. As of 2012, Loeb provides the voice of Princess Winger on the Disney Junior animated series Jake and the Never Land Pirates.
In 2008, Loeb was one of the contributors to Carrie Borzillo-Vrenna's book Cherry Bomb; she gave advice on how to be the perfect hostess.
In 2010, she provided guest voices for Disney's Special Agent Oso. In 2012, Lisa Loeb provided voice over talent for BonTon industries in their spring TV spots. In December 2012, Loeb made a brief cameo as Matthew Settle's (Rufus Humphrey) love interest on the final episode of Gossip Girl.
In February 2013, Loeb also made a cameo in an episode of Workaholics where her song "Stay (I Missed You)" is referenced several times. In January 2014, Loeb appeared on the cover of Making Music. In April 2014, Loeb appeared in the first episode of Last Week Tonight with John Oliver in a short musical sketch about Oregon's health care website failure.
In 2015, Loeb appeared as Julie, lead singer of the fictitious band "Natalie is Freezing" on season 6 episode "Advanced Safety Features" of the TV series Community. She also appeared as herself in Hot Tub Time Machine 2. Other shows she has recently been involved in include Orange Is the New Black, About a Boy, King of the Nerds, The Muppet Show, and Sunny Side Up Show.