Profile
Name: Leo (last name unknown)
Age: Unknown
Voiced By: Danny Mann/John Schuck
Characteristics
First Leo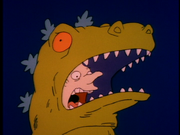 The first Leo was a brown haired man who worked at his brother-in-law's carnival. He donned the Reptar costume to serve Reptar cereal to children but had a habit of eating some of the boxes, much to his brother-in-law's annoyance. Leo's face could be seen through Reptar's mouth. Later on he meets Angelica and gives her a free cereal sample, but when he tells her he can't give her another sample this angers her. As they begin to fight, Angelica loses her temper and kicks his knee. As he drops the cereal boxes, Angelica steals them. Knowing his job is on the line, Leo spends a good amount of time chasing Angelica around the carnival. Although he finally catches up with her, rather than give them back to him, Angelica throws them into the water and runs away. When he tries to explain to his brother-in-law, he doesn't believe Leo and begins shouting at him to which he immediately fires him. Tired, frustrated and angered, Leo retaliates against his brother-in-law and has some kind of breakdown, mimicking Reptar's behavior and going on a rampage of the carnival's golf course.
Second Leo
The next Leo to don the Reptar costume was a blonde man who was an ice skater. Additionally, the Reptar mask on the suit covered the entire head and had a realistically moving mouth, in contrast to the open-faced suit the previous Leo had. He complains to his boss how he hates his job as Reptar and complains he's been working too long, so far he believes that the "real" Reptar would never fall in love with a girl reporter. He also hates kids, and says truthfully that lizards and amphibians give him the creeps. He even has no ability to fully ice skate, either. Although when Tommy and the other babies approach him on the ice, he calmly tries to help find his parents but runs away in fear when Tommy shows him a little lizard, crashing into the other actors and ending the show early.
Gallery
You can find Leo gallery here.
Community content is available under
CC-BY-SA
unless otherwise noted.