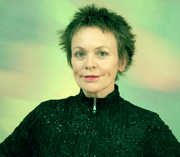 Laura Phillips "Laurie" Anderson
(born June 5, 1947) is an American avant-garde artist, composer, musician and film director whose work spans performance art, pop music, and multimedia projects. Initially trained in violin and sculpting, Anderson pursued a variety of performance art projects in New York during the 1970s, making use of spoken word, electronic technology, dance, and visual media. She became widely more known outside the art world in 1981 when her single "O Superman" reached number two on the UK pop charts. She also starred in and directed the 1986 concert film Home of the Brave.
Anderson has been called a pioneer in electronic music and has invented several devices that she has used in her recordings and performance art shows. In 1977, she created a tape-bow violin that uses recorded magnetic tape on the bow instead of horsehair and a magnetic tape head in the bridge. In the late 1990s, she developed a talking stick, a six-foot (1.8 m) long baton-like MIDI controller that can access and replicate sounds. Over the course of her career, she has collaborated with a wide range of artists including William Burroughs, Adrian Belew, Brian Eno, Philip Glass, Peter Gabriel, and her late husband Lou Reed.
Early life and education
Anderson was born in Glen Ellyn, Illinois on June 5, 1947, the daughter of Mary Louise (née Rowland) and Arthur T. Anderson. She graduated from Glenbard West High School. She attended Mills College in California, and eventually graduated from Barnard College magna cum laude and Phi Beta Kappa, studying art history. In 1972, she obtained an MFA in sculpture from Columbia University. Her first performance-art piece—a symphony played on automobile horns—was performed in 1969. In 1970, she drew the underground comix Baloney Moccasins, which was published by George DiCaprio. In the early 1970s, she worked as an art instructor, as an art critic for magazines such as Artforum, and illustrated children's books—the first of which was titled The Package, a mystery story in pictures alone.
1990s
In 1991, she was a member of the jury at the 41st Berlin International Film Festival. In the same year, Anderson appeared in The Human Face, a feature arts documentary directed by artist-filmmakers Nichola Bruce and Michael Coulson for BBC TV. Anderson was the presenter in this documentary on the history of the face in art and science. Her face was transformed using latex masks and digital special effects as she introduced ideas about the relationship between physiognomy and perception. Her varied career in the early 1990s included voice-acting in the animated film The Rugrats Movie. In 1994 she created a CD-ROM titled Puppet Motel, which was followed by Bright Red, co-produced by Brian Eno, and another spoken-word album, The Ugly One with the Jewels. This was then followed by an appearance on the 1997 charity single Perfect Day.
Anderson started dating Lou Reed in 1992, and was married to him from 2008 until his death in 2013.
In 1996, Anderson performed with Diego Frenkel (La Portuária) and Aterciopelados for the AIDS benefit album Silencio=Muerte: Red Hot + Latin produced by the Red Hot Organization.
An interval of more than half a decade followed before her next album release. During this time, she wrote a supplemental article on the cultural character of New York City for the Encyclopædia Britannica and created a number of multimedia presentations, most notably one inspired by Moby-Dick (Songs and Stories from Moby Dick, 1999–2000). One of the central themes in Anderson's work is exploring the effects of technology on human relationships and communication.
Community content is available under
CC-BY-SA
unless otherwise noted.