This article is a stub! You can help Tommy and the others by expanding it!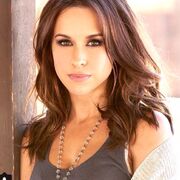 Lacey Nicole Chabert born September 30, 1982 is an American actress and voice actress. She first gained prominence as a child actress on television for her role as Claudia Salinger in the television drama Party of Five (1994–2000). She has also provided the voice of Eliza Thornberry in the animated series The Wild Thornberrys (1998–2004) and two feature films, and Meg Griffin during the first production season of the animated sitcom Family Guy. In film she has appeared in Lost in Space (1998), Not Another Teen Movie (2001), Daddy Day Care (2003), and as Gretchen Wieners in the film Mean Girls (2004).
Lacey Chabert stars in the Hallmark Channel movie Family for Christmas premiering July 11th, 2015. "I love working for Hallmark," says Chabert. "They've been so good to me. I have friends there now. I'm proud of their movies and the message of their movies.&rdquo
Early life
Chabert was born in Purvis, Mississippi, the daughter of Julie (née Johnson) and Tony Chabert. Her father, a French-speaker from Louisiana, is of Cajun, Sicilian and English descent; he worked as a maintenance operations representative for an oil company.Her mother has English, Scottish, and remote Italian ancestry. Chabert has a younger brother, and two older sisters. She was "World's Baby Petite" in the "World's Our Little Miss Scholarship Competition in 1985. In 1992 and 1993 she played Young Cosette in the Broadway production of Les Misérables.
Career
Chabert's first major role was as Claudia Salinger in Party of Five. Chabert made her debut to the big screen in the late 1990s starring as Penny Robinson in the fantasy-space thriller Lost in Space (1998). Since then, she has been the voice of Eliza Thornberry in the animated series The Wild Thornberrys, and has voiced Eliza in two films, The Wild Thornberrys Movie (2002) and Rugrats Go Wild (2003). She then had a supporting role in the parody film Not Another Teen Movie as Amanda Becker. She provided the voice for Aleu in Balto 2: Wolf Quest (2002) and she provided the voice of Meg Griffin for the first production season of the animated sitcom Family Guy (1999), after which Mila Kunis took over the role as Chabert became busy with school work and her duties on Party of Five. Chabert played the title role in The Brooke Ellison Story, a television film produced by Christopher Reeve, based upon a real-life quadriplegic woman who overcame many obstacles to graduate from Harvard University. She starred in Mean Girls (2004) and the television film Hello Sister, Goodbye Life (2006) on ABC Family. She appeared in a 2006 remake of Black Christmas. She appeared in an episode of Ghost Whisperer opposite former Party of Five costar Jennifer Love Hewitt. She performed the voice of Princess Elise from the game Sonic the Hedgehog for the PlayStation 3 and Xbox 360. She also voiced Gwen Stacy in the animated series The Spectacular Spider-Man.
Chabert, along with Lindsay Lohan, Rachel McAdams, and Amanda Seyfried, won the 2005 MTV Movie Award for Best On-Screen Team for Mean Girls. She won both the 1997 and 1998 Hollywood Reporter Annual YoungStar Award for Best Performance by a Young Actress in a Drama TV Series for Party of Five, and had been nominated three other times for work from 1999 to 2000. The YoungStar awards honor the best film, TV and music performances made exclusively by six to eighteen-year-olds.
In 2007, Chabert starred in the pilot episode of the Fox comedy The Hot Years, which revolved around the lives of four female friends who live together. The pilot was not ordered to series by Fox.
From 2013–2014, Chabert had a recurring role on the ABC Family sitcom Baby Daddy as Dr. Amy Shaw
Personal life
Chabert lives in Southern California, where she moved with her family in 1994 to begin work on Party of Five.
Chabert married her longtime boyfriend, David Nehdar, on December 22, 2013, in Los Angeles. On February 27, 2016, she announced via Instagram that she and her husband are expecting their first child. On September 1, 2016, the couple welcomed their daughter, Julia Mimi Bella.
Filmography
Television, video games, direct to video/VHS
Year
Title
Role
Notes
1990
Children's Palace and Child World
Herself
VHS "Video Toy Chest"
1991
A Little Piece of Heaven (film)
Princess, or 'Hazal'
1992–93
All My Children
Bianca Montgomery
2 episodes
1993
Best Learning Songs Video Ever!
Voice role
Best Busy People Video Ever!
Voice role
1994–2000
Party of Five
Claudia Salinger
142 episodes
1994
Best Silly Stories and Songs Video Ever!
Voice role
Best Sing-Along Mother Goose Video Ever!
Voice role
1996
ABC Afterschool Special
Carly Gallagher
1 episode
Gargoyles: The Goliath Chronicles
Bobbi Porter / Kim
2 episodes
Aaahh!!! Real Monsters
Girl / Kids / Tiffany
4 episodes
1997
Redux Riding Hood
Little Red
Voice role
Babes in Toyland
Jill
The Oz Kids Journey Beneath the Sea
Merla (voice)
When Secrets Kill
Jenny Newhall
TV film
1997–98
Hey Arnold!
Ruth P. McDougal
2 episodes
1998–04
The Wild Thornberrys
Eliza Thornberry / Additional Voices / Cub
85 episodes, voice role
1998
Stories From My Childhood
Jenny
1 episode
The Lion King II: Simba's Pride
Young Vitani
Voice role
Template:Sortname
Tanya
Voice role
Hercules
Callista
Voice role
1999
An American Tail: The Mystery of the Night Monster
Tanya
Voice role
We Wish You a Merry Christmas
Cindy
Voice role
1999–00, 2012
Family Guy
Meg Griffin / Jan Brady
13 episodes; 1 guest appearance
2001
The Wild Thornberrys: The Origin of Donnie
Eliza Thornberry
Voice role
Nicktoons Racing
Eliza Thornberry
Voice role
2002
Balto II: Wolf Quest
Aleu
Voice role
The Proud Family
1 episode, voice role
Strong Medicine
Mary
1 episode
Jackie Chan Adventures
Cheerleader 2
1 episode, voice role
Template:Sortname
Grace
1 episode
2004
Template:Sortname
Brooke Ellison
TV film
2005
American Dragon: Jake Long
Jasmine
1 episode, voice role
Super Robot Monkey Team Hyperforce Go!
Surthanna
1 episode, voice role
2005–06
Bratz
Kaycee
Voice role
2006
She Said/He Said
TV film
Hello Sister, Goodbye Life
Olivia Martin
TV film
Ghost Whisperer
Donna Ellis
1 episode
Sonic the Hedgehog
Princess Elise
Voice role
2007
Me, Eloise
1 episode, voice role
What If God Were the Sun?
Jamie Spagnoletti
TV film
2008–09
Template:Sortname
Gwen Stacy
Voice role (main cast)
2009
Template:Sortname
Jane
TV film
Glenn Martin, DDS
Amish girl
1 episode, voice role
2010
Elevator Girl
Liberty (Libby) Taylor
TV film
2011–13
Young Justice
Zatanna Zatara
Voice role (guest star episodes 15 & 18, main cast episodes 19–present)
2011-15
Transformers: Rescue Bots
Danielle "Dani" Burns / Additional Voices
Voice role
2011
Mike DA Mustang
Angel
TV film
Allen Gregory
Beth
Voice role
Star Wars: The Old Republic
Mako
[1]
2012
Imaginary Friend
Emma Turner
TV film
The Avengers: Earth's Mightiest Heroes
Quake
Voice role
Matchmaker Santa
Melanie Hogan
TV film
2013
Robot Chicken
Carly Shay
Voice role
Injustice: Gods Among Us
Zatanna
Voice role
Scooby Doo! Mecha Mutt Menace
Melanie Staples
Voice role
Young Justice: Legacy
Zatanna
Voice role
2013–14
Baby Daddy
Dr. Amy Shaw
6 episodes
2016
The Twilight Fairies
Nia Reynolds, Additional Voices
Voice role
Gallery
Cite error: <ref> tags exist, but no <references/> tag was found
Community content is available under
CC-BY-SA
unless otherwise noted.