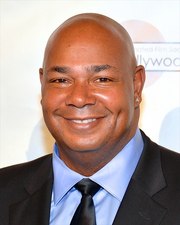 Kevin Michael Richardson (born October 25, 1964) is an American actor who provides voices for a number of characters in animation and video games. He is known for his extremely deep, villainous voice and has been playing a wide variety of characters since the early 1990s. Among his many voice roles are Chairman Drek in the video game Ratchet & Clank, Tartarus in the video game Halo 2, Robert Hawkins in Static Shock, Kilowog in Green Lantern: The Animated Series, Trigon in Teen Titans and Teen Titans Go!, Captain Gantu in Lilo & Stitch, Bulkhead in Transformers Prime, Antauri in Super Robot Monkey Team Hyperforce Go!, Cleveland Brown, Jr. in The Cleveland Show, Principal Brian Lewis in American Dad!, The Shredder in the 2012 incarnation of the Teenage Mutant Ninja Turtles, Dark Laser on The Fairly OddParents, Mr. Gus in Uncle Grandpa, Happy in The 7D, Crusher in Blaze and the Monster Machines , Maurice in "All Hail King Julien" , Adult Whispers in Whispers: An Elephant's Tale, and many others.
Early life
A classically trained actor and a native of the Bronx, New York, Richardson first gained recognition as one of only eight U.S. high school students selected for the National Foundation for the Arts' "Arts '82" program. As a result of this he earned a scholarship to Syracuse University and a spot on a PBS special directed by John Houseman.
Personal life
Richardson married his wife Monica in May 2006. They have two children.
External Links
http://www.imdb.com/name/nm0724656/ https://twitter.com/ClevelandJr http://www.kevinmichaelrichardson.com/ https://www.animenewsnetwork.com/encyclopedia/people.php?id=14325
Community content is available under
CC-BY-SA
unless otherwise noted.