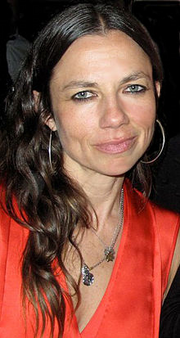 Justine Tanya Bateman (born February 19, 1966) is an American writer, producer, and actress. She is best known for her regular role as Mallory Keaton on the sitcom Family Ties (1982–1989). Until recently, Bateman ran a production and consulting company, SECTION 5. In the fall of 2012, she started studying computer science at UCLA. She is currently a senior with the major "Digital Media Management and Computer Science".
Early life
Bateman was born in Rye, New York, United States (U.S.), to Victoria Elizabeth, a former flight attendant for Pan Am who was originally from the United Kingdom (UK), and Kent Bateman, an American acting coach, film and television writer/director, and founder of a repertory stage in Hollywood. Her younger brother is actor, director, and producer Jason Bateman, and both children supplemented their family's earnings with their adolescent television careers.
She attended Taft Charter High School in Woodland Hills, California. However, Bateman could not attend college due to her contractual obligations with Family Ties. According to Bateman in 2014, she was informed by the series' line producer Carol Himes, "You're under contract to Paramount Studios."
Career
Film and television
Bateman began playing the role of superficial Mallory Keaton on the television sitcom Family Ties in 1982—Mallory was sister to Alex (Michael J. Fox). In 1984, Bateman starred on the Tales from the Darkside television series, in the episode "Mookie and Pookie" and hosted an episode of Saturday Night Live during its 13th season in 1988.
Also in 1988, Bateman starred in the lead role in the motion picture Satisfaction. The film, about an all-girl musical band, also featured Julia Roberts and Liam Neeson. Bateman starred as the lead vocalist and also performed the vocals on the soundtrack. The following year she ceased her Family Ties role, for which she was nominated for two Emmy Awards and a Golden Globe Award.
In 1996, she guest starred on "Lois & Clark: The New Adventures of Superman" as the character Sarah/Zara (four episodes - 2 at the end of season 3 & 2 at the beginning of season 4)
In the 1996–97 NBC sitcom version of the British TV comedy Men Behaving Badly, featuring Rob Schneider and Ron Eldard, she starred as Sarah, Eldard's girlfriend. Bateman returned to TV with the 2003 Showtime mini-series, Out of Order, alongside Eric Stoltz, Felicity Huffman, and Bill Macy.
In the third season Arrested Development episode, "Family Ties," which was broadcast in February 2006, her character is initially believed to be Michael Bluth's sister, but she turns out to be a prostitute taken advantage of by his father, and pimped by his brother. Michael Bluth was played by Bateman's real-life brother, Jason.
Also in 2006, she guest starred in the 10th episode of Men in Trees, as Lynn Barstow—this turned into a recurring role for the following eight episodes. She also starred as Terry in Still Standing, as well as a 2006 made-for-television movie called To Have and to Hold, with Sebastian Spence.
In 2008, she portrayed a drug dealer who rents a room from Carlos and Gabrielle Solis, in a guest role on Desperate Housewives. That same year, Bateman appeared in an episode of Showtime's Californication and made her first script sale to Disney's Wizards of Waverly Place.
In 2009, she took on the role of Lassiter's ex-wife in USA Network's Psych. She was also in the third episode of 2009's Criminal Minds: Suspect Behavior.
Digital career
In the fall of 2007, Bateman helped produce the very successful Speechless campaign in support of the Writers Guild of America strike. Bateman also launched a digital production company in the same year called FM78.tv, which then morphed into the production and consulting company SECTION 5.
She acted in John August's (Big Fish, Charlie and the Chocolate Factory) web-series "Remnants," Illeana Douglas' (Cape Fear, Goodfellas) IKEA-sponsored web-series "Easy to Assemble," (for which she won the 2010 Streamy Award for "Best Ensemble Cast," and was nominated for a 2010 Streamy Award for "Best Actress in a Comedy Web-Series") and Anthony Zuiker's (CSI creator) digi-novel series Level 26: Dark Prophecy, in which she plays a tarot card reader.
Bateman served as a producer on "Easy to Assemble," which garnered more than 5.1 million views during its second season; created Digital Components for Level 26; served as an executive producer—with FM78.tv—on the adaptation of Lisi Harrison's teenage book series, The Clique, for a Warner Bros internet series; and produced a film short called Z, which she promoted on her Facebook profile in January 2012.
Bateman also coproduced and copresented with fashion maven, Kelly Cutrone, for their internet talk show, "Wake Up and Get Real." Described as an alternative to the television series The View, WUAGR was last broadcast in June 2011.
In a 2008 interview, Bateman claimed that television "is dead" and she reaffirmed this perspective with tech publication Gigaom in November 2010:

TV as we knew it is absolutely dead. There are still shows in production, still ad buys being made, but the numbers these shows get are a small fraction of the ratings these same type of shows used to command. The amount of TV shows produced annually decreases every year. The amount of people employed by TV shows is far less than it used to be. All these decreases are steady from year to year. Traditional TV is not "in a slump," it has been steadily declining.
Bateman further explained that "multiplatform shows that have different designs not only in their very structure, but in the manner of delivery" will replace television. However, she concluded by conceding that AM radio still existed.
Other projects
Bateman's theater experience includes Arthur Miller's The Crucible (Roundabout Theater), Mamet's Speed the Plow (WIlliamstown Theater Fest), and Wedekind's Lulu (Berkeley Rep).
Taking a break from the entertainment business, Bateman established a clothing design company, Justine Bateman Designs, in 2000, and managed it until its closure in 2003. She was known for her one-of-a-kind hand knits and sold to BendelsNY, Saks, and Fred Segal.
Personal life
Bateman considers her vocational interests in equivalent terms to her family life, explaining in 2014:
There's no way I'm not doing this [UCLA degree]. When you said, "Why do you have to work?" ... I have to because I have to. This is my life. There are things I want to do. I see this incredible opportunity for entertainment to be using technology. I just look at where technology's going and what it's doing, and to not want to be a part of that and get on that treadmill… Honestly, I would just want to die. I wouldn't be who I am if I didn't jump in that.
In 2001, Bateman married Mark Fluent, with whom she has two children.
She served on the National Board of Directors of the Screen Actors Guild, until July 2009, when she resigned just prior to the end of her initial three-year term.
Bateman is an outspoken supporter of net neutrality. In 2008, Bateman testified before the United States Senate Commerce Committee in support of net neutrality.
Bateman is a licensed pilot of single-engine planes and a certified scuba diver.
On March 24, 2012, Bateman announced on her Twitter account that she had been accepted to the University of California, Los Angeles (UCLA) and will begin taking classes in the northern autumn of 2012. Shortly afterward, Bateman commenced an ongoing Tumblr page titled "College Life," in which she chronicles her study of a degree in digital management and computer science—Bateman is scheduled to graduate in 2016.
External links
http://justinebateman.flavors.me/
Community content is available under
CC-BY-SA
unless otherwise noted.