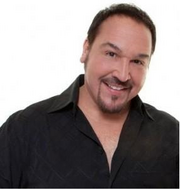 John Paolillo better known as Johnnie P was a Dancer, Singer, Comedic Actor and proud member of Actors Equity before stepping behind the camera and into the position of Choreographer, Director and Writer.
Some of John's work on television include LIVE with Regis and Kelly now Kelly and Michael on ABC as well as The View, Fox Morning Show, The WB 11, NBC promos, Back stage with Johnnie P and Friends and SPIKE TV's Happy Holidays from the Dark Side Star Wars promo Which received over 30,000 hits in 48 hours.
On Stage John's work includes Broadway Diva Drama Desk Award winner Ms. Mary Testa at 54 Below, Broadway Bares with Tony Award winner Jerry Mitchell, BCEFA Easter Bonnet, The Village People's World Tour, Project Lohan , Nickelodeon's Rugrats: A Live Adventure , The Dozen Divas Show with multi talented Singer ,Actress and Comedian Ms. Dorothy Bishop. John has all so Choreographed /Directed Thirteen well known American Musicals such as Grease, Joseph, Babes in Toyland, The Boyfriend and Fiddler to name a few.
As a Writer John has focused on a wide range of themes. From Lbs. A full on Musical Comedy about Full sized girls in a size two world, Hairy Tails & Rhymes An erotic/funny Burlesque dance show about Nursery rhymes gone wrong. In spring of 2014 Asylum Island will be the newest project where john joins a Murder Mystery sing–a-long with dance, Karaoke, and a cast to die for.
Currently John has joined the talented team of writers for song-stress Ms. Dorothy Bishop of The dozen Divas Show Where he not only writes in collaboration with Ms. Bishop, he is all so her Choreographer /Director.
Also, keep your eyes and ears open for Television's new look at life, love & Dance on "Till Dance Do Us Part"—a reality show about customizing couples' first wedding dance—coming soon.
John was just Voted one of New York City's Funniest fitness Instructors of 20013 on the popular fitness site Rate Your Burn and has been lovingly tagged "The Don Rickels of fitness." Quote: My Class doesn't suck...You do!
Community content is available under
CC-BY-SA
unless otherwise noted.