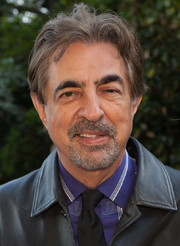 Joseph Anthony "Joe" Mantegna, Jr. (/mænˈteɪnjɑː/, Italian pronunciation: [manˈteɲɲa]; born November 13, 1947) is an American actor, producer, writer, director, and voice actor.
Mantegna began his career on the stage in 1969 with the musical Hair, later earning a Tony Award for Best Featured Actor in a Play the role of Richard Roma in the first American production of David Mamet's play Glengarry Glen Ross, the first of many collaborations with Mamet.
Expanding to film and television, Mantegna is best known for his roles in box office hits including Three Amigos (1986), The Godfather Part III (1990), Forget Paris (1995), and Up Close & Personal (1996). As of the 2015-2016 TV season, he stars in the CBS television series Criminal Minds as FBI Supervisory Special Agent David Rossi. Since the 1991 episode "Bart the Murderer", Mantegna has had a recurring role on the animated series The Simpsons as mob boss Fat Tony, reprising the role in The Simpsons Movie (2007). Mantegna has starred in the series First Monday (2002) and Joan of Arcadia (2003–2005). He earned Emmy Award nominations for his roles in three different miniseries: The Last Don (1997), The Rat Pack (1999), and The Starter Wife (2007). He has also served as executive producer for various movies and television movies, including Corduroy (1984), Hoods (1998), and Lakeboat (2000) which he also directed.
Additionally, he played Robert B. Parker's fictional detective Spenser in three made-for-TV movies between 1999 and 2001, and has narrated several audiobook adaptations of the Spenser novels.
An avid firearm enthusiast, he is the host of MidwayUSA's "Gun Stories" on the cable television Outdoor Channel. His daughter, Gia Mantegna, has also become a renowned film star.
Early life
Of Italian-Sicilian descent, Mantegna was born in 1947 in Chicago, Illinois, to Mary Anne (Novelli), a shipping clerk from Acquaviva delle Fonti, Italy, and Joseph Anthony Mantegna, Sr., an insurance salesman from Calascibetta, Sicily who died in 1971 of tuberculosis. Mantegna was raised Catholic and attended J. Sterling Morton High School East in Cicero, Illinois. Mantegna even has his own "honorary sign" by Austin Boulevard and 25th Street in Cicero, Il He studied acting at the Goodman School of Drama at DePaul University from 1967 to 1969. While still a young man in Chicago, he played bass in a band called The Apocryphals, which later played with another local group, The Missing Links, who went on to form the band Chicago. Mantegna is still very close to the original members of Chicago, and keeps in touch with his old band mates as well.
Personal life
Mantegna married Arlene Vrhel on December 3, 1975 and they have two daughters: Mia and Gia (née Gina). Arlene owns a Chicago-themed restaurant in Burbank, California named Taste Chicago. Mia (born June 5, 1987) was later diagnosed to be autistic and works as a make-up artist. She has also appeared publicly with her father on KCAL-TV in support of Autism Awareness Month (April). Gina was born two and a half years later and changed her name to Gia at age eighteen.
A native of the Chicago area, Mantegna is a Chicago Cubs fan and has led the singing of "Take Me Out to the Ball Game" during the 7th inning stretch multiple times. This was referenced in the show Criminal Minds where his character David Rossi's office is decked with Cubs gear.
In August 2015 Mantegna auctioned two of his rifles in order to fund the Israeli army.
Community content is available under
CC-BY-SA
unless otherwise noted.