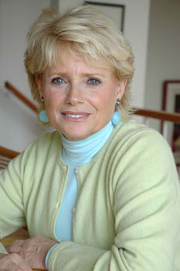 Jennifer Darling (born June 19, 1946) is an American actress. While her body of work as a voiceover artist greatly eclipses that of her on-stage career, she is, perhaps, nevertheless best known to most people as Peggy Callahan, the secretary to Oscar Goldman in the television series The Six Million Dollar Man and The Bionic Woman.
External links
http://www.voicechasers.com/database/showactor.php?actorid=1158
http://www.imdb.com/name/nm0201373/
https://www.animenewsnetwork.com/encyclopedia/people.php?id=3391
http://www.crystalacids.com/database/person/985/jennifer-darling/
Community content is available under
CC-BY-SA
unless otherwise noted.