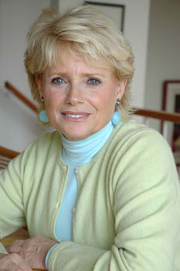 Jennifer Darling (born June 19, 1946) is an American actress. While her body of work as a voiceover artist greatly eclipses that of her on-stage career, she is, perhaps, nevertheless best known to most people as Peggy Callahan, the secretary to Oscar Goldman, voicing characters in the films A Bug's Life, Aladdin, Beauty and the Beast, Finding Nemo, Mulan, Iron Giant, The Little Mermaid, and Treasure Planet and television series The Six Million Dollar Man and The Bionic Woman.
External links
http://www.voicechasers.com/database/showactor.php?actorid=1158
http://www.imdb.com/name/nm0201373/
https://www.animenewsnetwork.com/encyclopedia/people.php?id=3391
http://www.crystalacids.com/database/person/985/jennifer-darling/
Community content is available under
CC-BY-SA
unless otherwise noted.