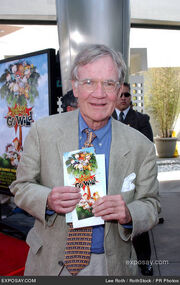 Jack Riley (December 30, 1935 – August 19, 2016) was the voice actor behind Stu Pickles in Rugrats and its spin off series All Grown Up!.
Before Rugrats, Jack Riley starred as Elliot Carlin on The Bob Newhart Show as well as making a few appearances on shows like The Mary Tyler Moore Show, That '70s Show, Diff'rent Strokes, St. Elsewhere, and Happy Days, as well as the voice of Tyrone from the Garfield and Friends episode "Rodent Rampage."
He died from pneumonia on August 19, 2016 at age 80.