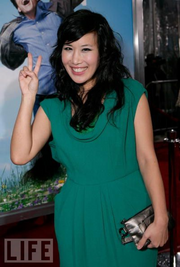 Gobh Misawa is Born on the island of Kyushu, Japan, Misawa had an early successful career as the baritone in a vocal quartet called "the Four Coins." The quartet toured the US for six months in the early '60s as "the Tokyo Four". After the death of a group member in the early '70s, the quartet broke up and Misawa began composing and arranging music as a new career. Concentrating primarily on commercial jingles (winning an international category for a Cleo award for a soap commercial jingle) and TV theme songs, Misawa has two gold records for the Japanese TV drama series, "Attention, Please" (about flight attendants) and "Sign wa V" (about women volleyball players). He continued his music career after his move to Hawaii in 1976. He moved to California in the early '80s, and eventually started working in film and TV.
External links
Community content is available under
CC-BY-SA
unless otherwise noted.