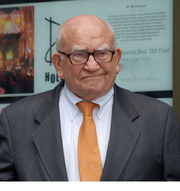 Edward "Ed" Asner (born November 15, 1929) is an American film, television, and stage actor, voice actor, and a former president of the Screen Actors Guild. He is primarily known for his role as Lou Grant during the 1970s and early 1980s, on both The Mary Tyler Moore Show and its spin-off series Lou Grant, making him one of the few television actors to portray the same leading character in both a comedy and a drama. He is also known for portraying Santa Claus in the 2003 comedy Elf.
In 2009, he starred as the voice of Carl Fredricksen in Pixar's animated film Up, and made a guest appearance on CSI: NY in the episode "Yahrseit". In early 2011, Asner returned to television as butcher Hank Greziak in Working Class, the first original sitcom on cable channel CMT. He starred in the Canadian television series Michael, Tuesdays and Thursdays, on CBC Television and has appeared in the 2013 television series The Glades.
Early life
Asner was born on November 15, 1929 in Kansas City, Missouri. His Jewish Russian-born parents, Lizzie (née Seliger, 1885 – January 16, 1967), a housewife; and David Morris Asner (1877 – May 19, 1957) ran a second-hand shop. He was raised in an Orthodox Jewish family.
Asner attended Wyandotte High School in Kansas City, Kansas, and the University of Chicago in Chicago, Illinois.
He worked on the assembly line for General Motors. Asner served with the U.S. Army Signal Corps and appeared in plays that toured Army camps in Europe.
Personal Life
Asner was married to Nancy Sykes from 1959 until 1988. Together they have three children: twins Matthew and Liza, and Kate. In 1987, he had a son named Charles with Carol Jean Vogelman. Asner is a parent and a grandparent of a child with autism and is deeply involved with the autism nonprofit Autism Speaks. He also serves on the advisory board of a suburban Chicago firm that employs persons with autistic spectrum disorders to test and program software.
Engaged to producer Cindy Gilmore in 1991, he married her on August 2, 1998. Gilmore filed for divorce on November 7, 2007. Model and television personality Jules Asner is his ex-daughter-in-law. Gavin Newsom, his ex-nephew-in-law, was a former mayor of San Francisco and is the current Lieutenant Governor of California.
On March 12, 2013, while performing in FDR at the Marquette Pavilion in Gary, Indiana, Asner began having trouble with his lines, and appeared to be disoriented, he was reportedly walked off stage by emergency medical personnel about 15 minutes into the performance. He was subsequently hospitalized in a Chicago-area hospital for exhaustion, and was released the following day. Commenting on his Twitter page Asner said, "Reports of my imminent demise are greatly exaggerated, They tell me I am suffering from exhaustion. Thanks for the good wishes!".
External links
http://www.imdb.com/name/nm799/
http://ibdb.com/person.php?id=30273
Community content is available under
CC-BY-SA
unless otherwise noted.