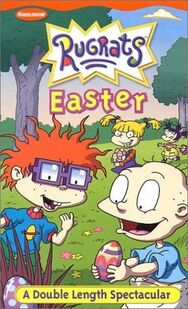 Easter
is a
Rugrats
video to be released Tuesday February 5, 2002 on
Paramount Home Video
And
Nickelodeon
.
Cast
Episodes
Back cover
"A hoppin' good Rugrats Easter special "Bow Wow Wedding Vows"! It's springtime and the Easter Bunny's on the way! Love is in the air and Easter eggs are hidden in the backyard! So why is Tommy so sad? Seems he's upset because Spike isn't paying attention to him anymore, choosing to spend his time with Fifi instead. So Angelica tells Tommy that Spike's in love and the quickest way to put an end to that puppy 'lovey dovey' stuff is marriage! That's when the babies decide to stage a wedding for the pair. It's not 'til the wedding's over and the Easter egg hunt's begun that Spike lures Tommy to an old shed in the Finster's backyard, where he's hidden something even more special!"
Contents
Paramount Logo
Coming to Videocassette Screen
SpongeBob SquarePants: Nautical Nonsense and Sponge Buddies 2002 DVD/VHS Trailer
Paramount Logo
Now Available on Videocassette Screen
Nick Jr. 2001/2002 VHS Trailer
The Little Bear Movie 2001 VHS Trailer
Rugrats in Paris: The Movie 2001/2002 DVD/VHS Trailer
Rugrats: 10th Anniversary Decade in Diapers/All Growed Up 2001/2002 VHS Trailer
Paramount Feature Presentation/FBI Warning Screen
Paramount Logo
Nickelodeon Maze Bumper
End Credits
Klasky Csupo Graffiti Logo
Nickelodeon Haypile Logo
Paramount Logo
Community content is available under
CC-BY-SA
unless otherwise noted.