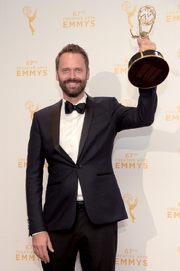 Dustin O'Halloran was born September 8, 1971, in Los Angeles, California, USA was an foley artist of Rugrats, and All Grown Up!. A self-taught pianist from the age of 7. He has lived in LA, where he studied art at Santa Monica College and formed the much-adored Devics with Sara Lov, Italy (in the depths of rural Emilia Romagna) and Berlin.
He gained recognition and critical acclaim for his studio albums and live performances.
Dustin's score to Sofia Coppola's 2006 film Marie Antoinette also earned him a tentative step into soundtrack work, which has since bloomed into a reputable and highly creative path of film composition. Having subsequently scored William Olsen's An American Affair (2010) and Drake Doremus' Sundance-winning Like Crazy (2011), Dustin's more recent film projects are numerous and varied: Now Is Good (Ol Parker, 2012), a British-American production starring Dakota Fanning, Olivia Williamson, Paddy Consadine and Jeremy Irvine; The Other Dream Team (Marius Markevicius, 2012) - an astonishing documentary on Lithuania's 1992 Olympic basketball team and their tacet resistance to Soviet rule; Breathe In (2013), Drake Doremus' latest feature starring Felicity Jones and Guy Pearce; and most recently, Dustin and SOTL's Adam Wiltzie scored the music for London Royal Ballet choreographer Wayne McGregor's newest full-length contemporary dance production, Atomos.
Lumiere - Dustin's third solo full-length - follows two Bella Union albums released in 2004 and 2006 respectively (Piano Solos vol. 1 and Piano Solos vol. 2). These two records were originally opportunity for Dustin to express a creative streak unexplored by Devics songwriting: gently and privately pieced together piano suites written and recorded on a beautifully-restored 1920's Sabel piano in his Italian farmhouse. The compositions, however, gradually grew into fully-formed solo pieces as Dustin's ambitions and designs developed. The path, of course, would eventually lead him to Lumiere's majestic, swooning ensemble arrangements and a focus-shift away from the piano as his work's primary timbre without losing any of the affection for the instrument that bore his first two records. A sublime solo live album - entitled Vorleben - was released by FatCat / 130701 in June, a hushed and reverent study of purity and stillness.
2011 also saw the release of A Winged Victory For The Sullen (Erased Tapes), the self-titled debut LP from a new musical project: a collaboration with Adam Wiltzie that builds on their production work together (Wiltzie played in important role in the sound design and engineering work on Lumiere) and respective musical histories to deliver truly jaw-dropping results. Widely celebrated across the critical board, A Winged Victory For The Sullen are quickly becoming a vital live act and a further accomplishment (of no small scale) in Dustin's personal list.
Community content is available under
CC-BY-SA
unless otherwise noted.