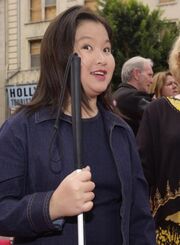 Dionne Quan (born on October 20, 1978 in Lexington, Massachusetts) is the voice of Kimi Finster. She started doing voice-over work when she was 14 years old.
She was born with optic hyperplasia, making her legally blind. Her acting scripts are written in Braille for her to read. Her voice can also be heard on The Fairly OddParents as Trixie Tang. She was also the voice of Yasmin on the Bratz animated series.
She is the youngest member of the cast, starting the role at the age of 21 or 22.
Roles
External Links