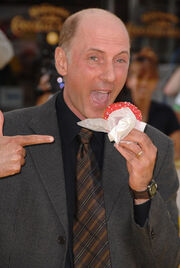 Daniel Louis Castellaneta
(born October 29, 1957) is an American actor, voice actor, comedian and screenwriter. Noted for his long-running role as
Homer Simpson
on the animated television series
The Simpsons
, he voices many other characters on the show, including
Abraham "Grampa" Simpson
,
Barney Gumble
,
Krusty the Clown
,
Sideshow Mel
,
Groundskeeper Willie
,
Mayor Quimby
and
Hans Moleman
.
Born in Oak Park, Illinois, a suburb of Chicago, Castellaneta started taking acting classes at a young age. He would listen to his father's comedy records and do impressions of the artists. After graduating from Northern Illinois University, Castellaneta joined Chicago's Second City in 1983, and performed with the troupe until 1987. He was cast in The Tracey Ullman Show, which debuted in 1987. The Tracey Ullman Show included a series of animated shorts about a dysfunctional family. Voices were needed for the shorts, so the producers decided to ask Castellaneta to voice Homer. His voice for the character started out as a loose impression of Walter Matthau, but later evolved into a more robust voice. The shorts would eventually be spun off into The Simpsons. Castellaneta has won four Wikipedia:Primetime Emmy Awards for Outstanding Voice-Over Performance for his work on the show as well as an Annie Award for Outstanding Individual Achievement in the Field of Animation in 1993. Castellaneta has co-written four episodes of The Simpsons with his wife Deb Lacusta.
Castellaneta has also had roles in several other television programs, including the live-action sitcom Sibs, The Adventures of Dynamo Duck, and the animated series Back to the Future" The Animation Series, Earthworm Jim, Aladdin, Hey Arnold!, and Darkwing Duck. In 1999, he appeared in the Christmas special Olive, the Other Reindeer and won an Annie Award for his portrayal of the glorious Postman. Castellaneta has also released a comedy CD, I Am Not Homer, and wrote and starred in a one-person show titled Where Did Vincent van Gogh?.
Early life
Castellaneta was born in Oak Park, Illinois, a suburb of Chicago, on October 29, 1957, to Elsie (née Lagorio, 1926-2008) and Louis Castellaneta (1915-2014). an amateur actor who worked for a printing company. He is of Italian descent. Castellaneta became adept at impressions at a young age and his mother enrolled him in an acting class when he was sixteen years old. He would listen to his father's comedy records and do impressions of the artists. He was a "devotee" of the works of many performers, including Alan Arkin and Barbara Harris and directors Mike Nichols and Elaine May. He attended Oak Park and River Forest High School and upon graduation, started attending Northern Illinois University (NIU) in the fall of 1975. Castellaneta studied art education, with the goal of becoming an art teacher. He became a student teacher and would entertain his students with his impressions. Castellaneta was also a regular participant in The Ron Petke and His Dead Uncle Show, a radio show at NIU. The show helped Castellaneta hone his skills as a voice-over actor. He recalled "We did parodies and sketches, we would double up on, so you learned to switch between voices. I got my feet wet doing voiceover. The show was just barely audible, but we didn't care. It was the fact that we got a chance to do it and write our own material." He took a play-writing class and auditioned for an improvisational show. A classmate first thought Castellaneta would "fall on his face with " but soon "was churning out material faster than [they] could make it work.
Community content is available under
CC-BY-SA
unless otherwise noted.