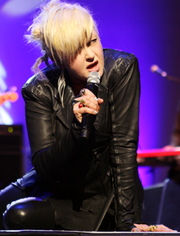 Cynthia Ann Stephanie "Cyndi" Lauper
(born June 22, 1953) is an American singer, songwriter, actress and LGBT activist. Her career has spanned over 30 years. Her debut solo album She's So Unusual (1983) was the first debut female album to chart four top-five hits on the Billboard Hot 100—"Girls Just Want to Have Fun", "Time After Time", "She Bop", and "All Through the Night"—earned Lauper the Best New Artist award at the 27th Grammy Awards in 1985. Her success continued with the soundtrack for the motion picture The Goonies and her second record True Colors (1986). This album included the number one hit of the same name and "Change of Heart" which peaked at number 3.
Since 1989, Lauper has released nine studio albums and participated in many other projects. In 2010, Memphis Blues, became Billboard's most successful blues album of the year, remaining at #1 on the Billboard Blues Albums chart for 13 consecutive weeks. In 2013, Lauper won the Tony Award for Best Original Score for composing the Broadway musical Kinky Boots, making her the first woman to win the category by herself. The musical was awarded five other Tonys including Tony Award for Best New Musical. In 2014, Lauper was awarded the Grammy Award for Best Musical Theater Album for the cast recording. In 2016 the West End production won Best New Musical at the Olivier Awards.
Lauper has established herself as a pop culture icon selling over 50 million albums and 20 million singles. She has won awards at the Grammys, Emmys, Tonys, the New York's Outer Critics Circle, MTV Video Music Awards (VMAs), Billboard Awards, and American Music Awards (AMAs). An inductee into both the Songwriters Hall of Fame and the Hollywood Walk of Fame, Lauper is one of the few singers to win three of the four major American entertainment awards (EGOT). Lauper won the inaugural Best Female Video prize at the 1984 VMAs for Girls Just Wanna Have Fun. This music video is recognized by MTV, VH1 and Rolling Stone as one of the greatest ever music videos of the era. She is featured in the Rock and Roll Hall of Fame Museum's Women Who Rock exhibit. Her debut album is included in Rolling Stone's list of the 500 Greatest Albums of All Time, while Time After Time is included in Vh1's list of the 100 Best Songs of the Past 25 years. VH1 has ranked Lauper No. 58 of the 100 Greatest Women of Rock & Roll. Lauper is also noted for appearing in the first-ever WWE WrestleMania, managing wrestler Wendi Richter who won the WWF Women's Championship in 1985.
Lauper has been celebrated for her humanitarian work, particularly as an advocate for gay and transgender rights in the United States. Her charitable efforts were acknowledged in 2013 when the singer was invited as a special guest to attend US President Barack Obama's second-term inaugural. Narrated and sang for childerens video titled "There was an old lady that swallowed a fly.
Early life
Lauper was born at Boulevard Hospital in Astoria, Queens, New York City, to a Catholic family. Her father, Fred, was of German and Swiss descent. Her mother, Catrine (née Gallo), is Italian American (from Sicily). Lauper's siblings are younger brother Fred (nicknamed Butch), and older sister, Ellen. Lauper's parents divorced when she was five and her mother remarried and divorced again.
Lauper grew up in the Ozone Park neighborhood of Queens and as a child, listened to such artists as The Beatles, Ella Fitzgerald, Judy Garland and Billie Holiday. At age 12, she began writing songs and playing an acoustic guitar given to her by her sister.
Lauper expressed herself with a variety of hair colors, eccentric clothing and even took a friend's advice to spell her name as "Cyndi" rather than "Cindy".
Lauper went to Richmond Hill High School, but was expelled; she later earned her GED. She left home at 17, to escape her abusive stepfather, intending to study art. Her journey took her to Canada, where she spent two weeks in the woods with her dog Sparkle, trying to find herself. She eventually traveled to Vermont, where she took art classes at Johnson State College and supported herself working odd jobs.
In the early 1970s, Lauper performed as a vocalist with various cover bands. One was called Flyer in the New York metropolitan area, singing hits by bands including Bad Company, Jefferson Airplane and Led Zeppelin. Although Lauper was performing on stage, she was not happy singing covers. In 1977, Lauper damaged her vocal cords and took a year off from singing. She was told by doctors that she would never sing again, but regained her voice with the help of vocal coach Katie Agresta.
Career
In 1978, Lauper met saxophone player John Turi through her manager Ted Rosenblatt. Turi and Lauper formed a band named Blue Angel and recorded a demo tape of original music. Steve Massarsky, manager of The Allman Brothers Band, heard the tape and liked Lauper's voice. He bought Blue Angel's contract for $5,000 and became their manager.
Lauper received recording offers as a solo artist, but held out, wanting the band to be included in any deal she made. Blue Angel was eventually signed by Polydor Records and released a self-titled album on the label in 1980. Lauper hated the album cover, saying that it made her look like Big Bird, but Rolling Stone magazine later included it as one of the 100 best new wave album covers (2003). Despite critical acclaim, the album sold poorly (or "It went lead", as Lauper later joked.) and the band broke up. The members of Blue Angel had a falling out with Massarsky and fired him as their manager. He later filed an $80,000 suit against them, which forced Lauper into bankruptcy. After this Lauper temporarily lost her voice due to an inverted cyst in her vocal cord.
After Blue Angel broke up and due to her financial problems, Lauper spent time working in retail stores, waitressing at IHOP (which she quit after being demoted to hostess when the manager made a pass at her), and singing in local clubs. Her most frequent gigs were at El Sombrero. Music critics who saw Lauper perform with Blue Angel believed she had star potential due to her four-octave singing range, In 1981, while singing in a local New York bar, Lauper met David Wolff, who took over as her manager and had her sign a recording contract with Portrait Records, a subsidiary of Epic Records.
1996-2000
On November 19, 1997, Lauper gave birth to her son Declyn Wallace Thornton. Her fifth album, Sisters of Avalon, was released in Japan in 1996 and elsewhere in 1997. The album was written and produced with the help of Jan Pulsford (Lauper's keyboard player) and producer Mark Saunders. As in Hat Full of Stars, some of the songs in Sisters of Avalon addressed dark themes. The song "Ballad of Cleo and Joe" addressed the complications of a drag queen's double life. The song "Say a Prayer" was written for a friend of hers who had died from AIDS. "Unhook the Stars" was used in the movie of the same name. Again without support from her label, the release failed in America, spending a single week on the Billboard album chart at No. 188. This album also met with much critical praise including People magazine, which declared it "90s nourishment for body and soul. Lauper sets a scene, makes us care, gives us hope."
In November 1998, Lauper released the Christmas album Merry Christmas...Have a Nice Life. The album contained both original material and standards, and was co-produced and mixed by William Wittman.
On January 17, 1999, Lauper appeared as an animated version of herself in The Simpsons episode "Wild Barts Can't Be Broken". In the episode, Lauper sings the National Anthem to the melody of "Girls Just Want to Have Fun". In the same year, Lauper opened for Cher's Do You Believe? Tour alongside Wild Orchid. She also appeared in the films Mrs. Parker and the Vicious Circle and The Opportunists.
Lauper contributed a cover version of The Trammps's "Disco Inferno" to the soundtrack for the film A Night at the Roxbury. The song was also released as an EP and earned Lauper a nomination 1999 Grammy Awards for Best Dance Recording. In 2000, Lauper contributed the song "I Want a Mom That Will Last Forever" to the children's movie Rugrats in Paris: The Movie. The song was written with Mark Mothersbaugh. In 2000, Lauper also co-wrote the song "If You Believe" with Faye Tozer of the British pop group Steps, for the band's third studio album, Buzz.
Community content is available under
CC-BY-SA
unless otherwise noted.