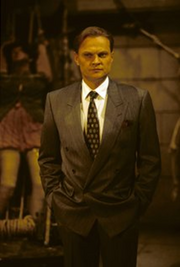 Christopher Neame (born 12 September 1947, London) is an English actor now moved to the United States.
UK Career
Neame's UK film credits include appearances in two Hammer Horror films: Lust for a Vampire (1971) and Dracula AD 1972 (1972), as well as No Blade of Grass (1970).
He is known to television viewers in the United Kingdom and abroad for a number of roles. In 1975 he played Kaiser Wilhelm II in the ITV 13-part drama series, Edward the Seventh. In the same year he played the role of lawyer Bernie Stones in The Sweeney episode Queen's Pawn. He also featured in two BBC dramas dealing with the Second World War - Lieutenant Dick Player in Colditz (1972–74). Neame played Flight Lieutenant John Curtis in the first season of the World War II drama, Secret Army (1977). In between those in the TV film A Point in Time (1973), he became one of the first male actors to appear nude on the small screen.
Neame played the villain Skagra in the unfinished Doctor Who serial Shada in 1979. He made a guest appearance in another BBC period drama When the Boat Comes In. In 1981 portraying Robin Cunningham. In 1982 he played Mark Anthony in the BBC series 'Cleopatra'.
USA Career
Neame emigrated to the United States since when he has made frequent appearances in American films and television. He appeared in the films, Steel Dawn (1987), D.O.A. (1988), Bloodstone (1988), the James Bond film Licence to Kill (1989), Ghostbusters II (1989), Edge of Honor (1991), Suburban Commando (1991), Hellbound (1994), Ground Zero (2000) and The Prestige (2006).
He played a psycho killer in an episode of MacGyver in 1985, and appeared in The Great Escape II: The Untold Story in 1988. He was in a two-part story of Star Trek: Enterprise in 2004. In 1994 he portrayed "Knight Two" in the Babylon 5 episode "And the Sky Full of Stars". Neame is one of the few actors to have appeared in Doctor Who, Blake's 7, Star Trek, Babylon 5, and Earth 2. Other television appearances include The A-Team, Beauty and the Beast, Northern Exposure (1994), JAG (1995), and the two-part mini-series The Apocalypse Watch (1996). He also starred in the Showtime film Street Knight (1994) and he appeared as "The One" in the last two episodes of Martial Law (2000), And finally he is role voiced Executive in All Grown Up!.
External links