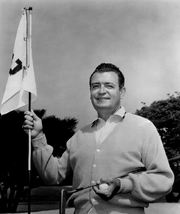 Francis Dayle "Chick" Hearn
(November 27, 1916 – August 5, 2002) was an American sportscaster. Known primarily as the long-time play-by-play announcer for the Los Angeles Lakers of the National Basketball Association, Hearn was remembered for his rapid fire, staccato broadcasting style, associated with colorful phrases such as slam dunk, air ball, and no harm, no foul that have become common basketball vernacular, and for broadcasting 3,338 consecutive Lakers games starting on November 21, 1965. Additionally, Hearn started the now common tradition of estimating the distance of shots taken. Of note is that most of Hearn's games in the television era were simulcast on both radio and television, even after most teams chose to use different announcers for the different media.
Early life
Hearn was born and raised in Aurora, Illinois, in west suburban Chicago, and attended high school at Marmion Academy and college at Bradley University. He earned the nickname "Chick" while an Amateur Athletic Union basketball player at Bradley, when teammates played a prank on him: giving him a shoebox to see his surprised reaction when he opened it and found not sneakers inside, but instead a dead chicken.
He and his wife Marge were married August 13, 1938. They had two children, a son, Gary and a daughter, Samantha, both of whom predeceased Hearn. Marge Hearn died January 30, 2016 at the age of 98.
Television and movie work
Community content is available under
CC-BY-SA
unless otherwise noted.