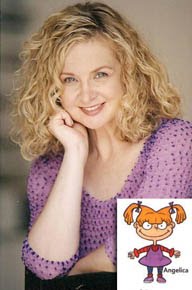 Cheryl Chase is the voice actor of Angelica Pickles. Cheryl Chase (born Cheryl Hudock; December 25, 1958, Manville, New Jersey) is an American award winning voice actress and singer. She is best known for voicing Angelica Pickles in the television series Rugrats and its spinoffs All Grown Up! and Angelica and Susie's Pre-School Daze.
Biography
Chase, then known by her birth name Cheryl Hudock, made her onscreen debut alongside Marie Osmond in the 1982 television movie, Side by Side: The True Story of the Osmond Family. Chase is best known as the voice of Angelica Pickles on Rugrats, All Grown Up! and Angelica and Susie's Pre-School Daze Chase's character Angelica Pickles placed #7 in TV Guide's "50 Greatest Cartoon Characters of All Time" (August 2002). Her programs on which she has voiced characters include The Smart Talk with Raisin Show (as Raisin), The Ren & Stimpy Show, Noozles (As "Pinky"), Nadia: The Secret of Blue Water (as "Marie" in the English dub), and Random! Cartoons (as "Nurse").
Behind the mic, Chase provided the voice of Mei in the Streamline Pictures dub of the Hayao Miyazaki film My Neighbor Totoro as well as Sachi in the Katsuhiro Otomo film Neo Tokyo done by ADV Films; in the early Harmony Gold English Dragon Ball dub from the 1980s, she voiced Puar (Squeaker). On the big screen Chase provided the baby sounds for Pubert in Addams Family Values, an alien child in Total Recall and voiced Angelica Pickles in The Rugrats Movie, Rugrats in Paris: The Movie, and Rugrats Go Wild!.

This article is a stub! You can help Tommy and the others by expanding it!