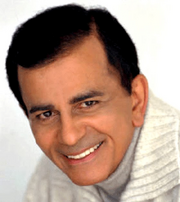 Kemal Amen "Casey" Kasem (April 27, 1932 – June 15, 2014) was an American disc jockey, music historian, radio celebrity, voice actor, and actor, known for being the host of several music radio countdown programs, most notably American Top 40, from 1970 until his retirement in 2009, and for providing the voice of "Shaggy" Rogers in the Scooby-Doo franchise from 1969 to 1997, and again from 2002 until 2009.
Kasem co-founded the American Top 40 franchise in 1970, hosting it from its inception to 1988, and again from 1998 to 2004. Between January 1989 and early 1998, he was the host of Casey's Top 40, Casey's Hot 20, and Casey's Countdown. From 1998 to 2009, Kasem also hosted two adult contemporary spin-offs of American Top 40: American Top 20 and American Top 10.
In addition to his radio shows, Kasem provided the voice of many commercials, performed many voices for Sesame Street, provided the character voice of Peter Cottontail in the Rankin/Bass production of Here Comes Peter Cottontail, was "the voice of NBC", and helped out with the annual Jerry Lewis telethon. He provided the cartoon voices of Robin in Super Friends, Mark on Battle of the Planets, and a number of characters for the Transformers cartoon series of the 1980s. In 2008, he was the voice of Out of Sight Retro Night which aired on WGN America, but was replaced by rival Rick Dees. After 40 years, Kasem retired from his role of voicing Shaggy in 2009, although he did voice Shaggy's father in the 2010 TV series, Scooby-Doo! Mystery Incorporated. Kasem was born in Detroit, Michigan, on April 27, 1932, to Lebanese Druze immigrant parents, who had settled in Michigan, where they worked as grocers. Kasem was named after Turkish leader Mustafa Kemal Atatürk, a man Kasem said his father respected.
In the 1940s, "Make Believe Ballroom" reportedly inspired Kasem to follow a career in radio and later host a national radio hits countdown show. Kasem received his first experience in radio covering sports at Northwestern High School in Detroit. He then went to Wayne State University for college. While at Wayne State, he voiced children on radio programs such as The Lone Ranger and Challenge of the Yukon. In 1952, Kasem was drafted into the U.S. Army and sent to Korea. There, he worked as a DJ/announcer on the Armed Forces Radio Korea Network.
In October 2013, Kerri Kasem said her father was suffering from Parkinson's disease, which a doctor had diagnosed in 2007; a few months later, she said he was diagnosed with Lewy body dementia, which is often difficult to differentiate from Parkinson's. Due to his condition, he was no longer able to speak during his final months.
As his health worsened in 2013, Jean Kasem prevented any contact with her husband, particularly from his children by his first marriage. On October 1, Kerri, Mike and Julie protested in front of the Kasem home, having not been allowed contact with their father for three months; some of Casey Kasem's long-time friends and colleagues, along with his brother Mouner, also joined the demonstration. The eldest Kasem children sought conservatorship over their father's care, with Julie and her husband Jamil Aboulhosn filing the papers; the court denied their petition in November.
Casey was removed from a Santa Monica, California nursing home by his wife on May 7, 2014. On May 12, Kerri Kasem was granted temporary conservatorship over her father, despite her stepmother's objection. The court also ordered an investigation into Casey Kasem's whereabouts, after his wife's attorney told the court Casey was "no longer in the United States". He was found soon afterward in Washington state.
On June 6, 2014, Kasem was reported to be in critical but stable condition at a hospital in Washington state, receiving antibiotics for bedsores and treatment for high blood pressure. It was revealed that he had been bedridden for some time. A judge ordered separate visitation times due to antagonism between Jean Kasem and his children from his first wife. Judge Daniel S. Murphy ruled that Kasem had to be hydrated, fed, and medicated as a court-appointed lawyer reported on his health status. Jean Kasem claimed that he had been given no food, water, or medication the previous weekend. Kerri Kasem's lawyer stated that she had him removed from artificial food and water on the orders of a doctor and in accordance with a directive her father signed in 2007 saying he would not want to be kept alive if it "would result in a mere biological existence, devoid of cognitive function, with no reasonable hope for normal functioning." Murphy reversed his order the following Monday, after it became known that Kasem's body was no longer responding to the artificial nutrition, allowing the family to place Kasem on "end-of-life" measures over the objections of Jean Kasem.
On June 15, 2014, Kasem died at St. Anthony's Hospital in Gig Harbor, Washington at the age of 82. He was survived by his wife, four children, and four grandchildren. Casey's body was handed over to widow Jean, who would be making funeral arrangements.Reportedly, Kasem wanted to be buried at Forest Lawn Memorial Park in Glendale.
By July 19, a judge had granted Kasem's daughter Kerri a temporary restraining order to prevent his wife from cremating Kasem's body to allow an autopsy to be performed, but when she went to give a copy of the order to the funeral home, she was informed the body had been moved at the directive of Jean Kasem. Kasem's wife had the body moved to a funeral home in Montreal on July 14, 2014. On August 14, it was reported in the Norwegian newspaper Verdens Gang that Kasem was going to be buried in Oslo.
Kasem's family had his interment at Oslo Western Civil Cemetery on December 16, 2014.
Community content is available under
CC-BY-SA
unless otherwise noted.