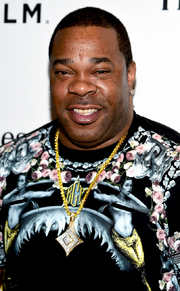 Trevor Tahiem Smith, Jr.
, (born May 20, 1972), better known by his stage name Busta Rhymes, is an American hip hop recording artist, actor, record producer and record executive. Chuck D of Public Enemy gave him the moniker Busta Rhymes, after NFL wide receiver George "Buster" Rhymes. Early in his career, he was known for his wild style and fashion, and today is best known for his intricate rapping technique, which involves rapping at a fast rate with a lot of internal rhyme and half rhyme, and to date has received eleven Grammy nominations for his musical work.
About.com included him on its list of the 50 Greatest MCs of Our Time (1987–2007), while Steve Huey of AllMusic called him one of the best and most prolific rappers of the 1990s. In 2012, The Source placed him on their list of the Top 50 Lyricists of All Time. MTV has called him "one of hip-hop's greatest visual artists."
Busta Rhymes was both a member of Leaders of the New School and a founding member of the record label Conglomerate (founded as Flipmode Entertainment) and production crew The Conglomerate (formerly Flipmode Squad). In November 2011, Busta Rhymes signed a deal with Cash Money Records. He has so far released eight studio albums, with the first being the 1996 platinum-selling album The Coming. His list of hit singles include "Woo Hah!! Got You All in Check", "Dangerous", "Turn It Up (Remix)/Fire It Up", "Gimme Some More", "What's It Gonna Be?!", "Pass the Courvoisier, Part II", "I Know What You Want" and "Touch It", among several others. He is set to release his tenth album, E.L.E.2 (Extinction Level Event 2), which will be a sequel to his 1998 album E.L.E. (Extinction Level Event): The Final World Front.
Early life
Busta Rhymes was born Trevor Tahiem Smith, Jr., in Brooklyn, New York, on May 20, 1972 to Geraldine Green and Trevor Smith, who are from Jamaica. At age 12, he moved to Uniondale, Long Island, and later moved to England spending time in Liverpool and Morecambe before returning to attend Uniondale High School, graduating in 1990. Smith attended George Westinghouse Career and Technical Education High School, alongside Jay-Z, DMX and The Notorious B.I.G.
The most known story of Busta's tenure at Westinghouse High School was battle rapping his fellow schoolmate Jay Z in the school's cafeteria one day, to whom he ultimately lost. This was confirmed in a 2015 interview with Jay Z and Jimmy Kimmel.
Personal life
Rhymes has four children: T'Ziah (born 1993), T'Khi (born 1999), Trillian (born 2001), as well as a daughter, Mariah (born 1998)
Rhymes is a Muslim and has said that his faith has helped keep him grounded in life.
Community content is available under
CC-BY-SA
unless otherwise noted.