This article is a stub! You can help Tommy and the others by expanding it!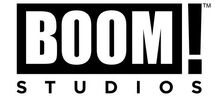 Boom! Studios (BOOM! Studios) is an American comic book and graphic novel publisher that was launched in June of 2005 and is located in Los Angeles, California. Ross Richie is the founder of Boom! Studios. The company is well known for their licensing of various shows and films to have a comic book or graphic novel adaption; those licensing have included "Toy Story", "Adventure Time", "Power Rangers", and many more.
Role with Nickelodeon
On July 17, 2017, it was announced that Boom! Studios will be publishing a brand new series focusing on the Rugrats. Their first title is "Rugrats #1" and it will be a continuing series on the beloved carpet critters. "Rugrats #1" was released on October 18, 2017.
Trivia
"Rugrats #1" is their first Nickelodeon comic book adaptation.
External Links