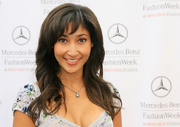 Bettina Bush (also known professionally as simply "Bettina") (Born January 28, 1973), is an American voice actress, actress and pop music singer. She was born the youngest daughter out of three children. Her father was of African-American descent and her mother was of Scottish, Cherokee, and Polynesian descent.
Voice acting
Bettina's professional career began at age 5 when she began modeling and acting. Her acting career eventually led to voice-overs, including, My Little Pony (as Megan), The Get Along Gang (as Dotty Dog), The Littles (as Lucy Little), Rugrats, All Grown Up! (as Alyssa), Stargate Infinity, Ben 10, Age of Empires III (as Nonahkee), "Godhand" (as Olivia), and as the voice of Rainbow Brite. She has also performed the McDonald's "I'm Lovin' It" commercial jingles. She starred as Maria, a teenage Native American girl, in the film Journey to Spirit Island (1988).
External links
http://www.imdb.com/name/nm0079354/
Community content is available under
CC-BY-SA
unless otherwise noted.