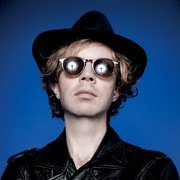 Beck Hansen
(born
Bek David Campbell
; July 8, 1970), known by stage name Beck, is an American singer, songwriter, producer and multi-instrumentalist. He is mostly known for his musical composition, as well as a palette of sonic genres.
He rose to fame in the early 1990s with his sonically experimental and lo-fi style, and became known for creating musical collages of wide genre styles. Today, he musically encompasses folk, funk, soul, hip hop, alternative rock, country and psychedelia. He has released 12 studio albums (3 of which were independently released), as well as several non-album singles and a book of sheet music.
Born in Los Angeles in 1970, Beck grew towards hip-hop and folk in his teens and began to perform locally at coffeehouses and clubs. He moved to New York City in 1989 and became involved in the city's small fiery anti-folk movement. Returning to LA in the early 1990s, he cut his breakthrough single "Loser", which became a worldwide hit in 1994, and released his first major album, Mellow Gold, the same year. Odelay, released in 1996, produced hit singles, topped critic polls and won several awards. He released the psychedelic Mutations in 1998, and the funk-infused Midnite Vultures in 1999. The soft-acoustic Sea Change in 2002 showcased a more serious Beck, and 2005's Guero returned to Odelay's sample-based production. The Information in 2006 was inspired by electrofunk, hip hop, and psychedelia; 2008's Modern Guilt was inspired by '60s pop music; and 2014's folk-infused Morning Phase won Album of the Year at the 57th Grammy Awards on February 8, 2015. He is reportedly working on a 13th studio album, with the singles "Dreams" and "Wow" having already been released.
With a pop art collage of musical styles, oblique and ironic lyrics, and postmodern arrangements incorporating samples, drum machines, live instrumentation and sound effects, Beck has been hailed by critics and the public throughout his musical career as being among the most idiosyncratically creative musicians of 1990s and 2000s alternative rock. Two of Beck's most popular and acclaimed recordings are Odelay and Sea Change, both of which were ranked on Rolling Stone's list of the 500 greatest albums of all time. The four-time platinum artist has collaborated with several artists and has made several contributions to soundtracks.
Beck is married to actress Marissa Ribisi, and is an active Scientologist.
Early life
Beck was born in Los Angeles, to David Campbell, a Canadian-born musician, and Bibbe Hansen, a visual artist and former Warhol superstar. Bibbe's mother was Jewish, while Bibbe's father, Al Hansen, was partly of Norwegian descent. Beck has said that he was "raised celebrating Jewish holidays", and that he considers himself Jewish. Beck's mother grew up amid New York's Andy Warhol Factory art scene of the 1960s, but moved to California at age 17, where she met Campbell. His father is a Canadian-born arranger, composer and conductor who worked on hundreds of albums and numerous films.
Beck began life in a rooming house near downtown Los Angeles. As a child, he lived in a declining neighborhood just off Hollywood Boulevard. "By the time we left there, they were ripping out miles of houses en masse and building low-rent, giant apartment blocks," he later recalled. The lower-class family struggled financially, moving to Hoover and Ninth Street, a neighborhood populated primarily by Koreans and Salvadorian refugees. He was sent for a time to live with his paternal grandparents in Kansas, with Beck later remarking that "I think they were kind of concerned" about his "weird" home life. Since his paternal grandfather was a Presbyterian minister, Beck grew up influenced by church music and hymns. Beck also spent time in Europe with his maternal grandfather, Al Hansen, a visual collage artist and a pioneer in the avant-garde Fluxus movement.
After his parents separated when he was ten, Beck stayed with his mother and brother in Los Angeles, where he was influenced by the city's diverse musical offerings—everything from hip hop to Latin music and his mother's art scene—all of which would later reappear in his recorded and published work. Beck obtained his first guitar at 16 and became a street musician, often playing Lead Belly covers at Lafayette Park. During his teens, Beck discovered the music of Sonic Youth, Pussy Galore and X, but remained uninterested in most music outside folk until many years into his career. The first contemporary music that made a direct connection with Beck was hip hop, which he first heard on Grandmaster Flash records in the early 1980s. Growing up in a predominantly Latin district, he found himself the only white child at his school, and he quickly learned to breakdance. When he was 17, Beck grew fascinated after hearing a Mississippi John Hurt record at a friend's house, and spent hours in his room trying to emulate the finger picking of the country-blues guitarist. Shortly thereafter, Beck explored blues and folk music further, discovering Woody Guthrie and Blind Willie Johnson.
Feeling like "a total outcast", Beck dropped out of school after junior high. He later said that although he felt school was important, he felt unsafe there. When he applied to the new performing arts high school downtown, he was rejected. His brother, Channing, took him to post-Beat jazz places in Echo Park and Silver Lake. He hung out at the Los Angeles City College, perusing records, books and old sheet music in its library. He used a fake I.D. to sit in on classes there, and he also befriended a literature instructor and his poet wife. He soon began a stream of menial jobs, including loading trucks and operating a leaf blower.
Career
Beck began as a folk musician, switching between country blues, Delta blues and more traditional rural folk music in his teens. He began performing on city buses, often covering Mississippi John Hurt alongside original, sometimes improvisational compositions. "I'd get on the bus and start playing Mississippi John Hurt with totally improvised lyrics. Some drunk would start yelling at me, calling me Axl Rose. So I'd start singing about Axl Rose and the levee and bus passes and strychnine, mixing the whole thing up," he later recalled. He was also in a band called Youthless that hosted Dadaist-inspired freeform events at city coffee shops. "We had Radio Shack mics and this homemade speaker and we'd draft people in the audience to recite comic books or do a beatbox thing, or we'd tie the whole audience up in masking tape," Beck recalled.
In 1989, Beck caught a bus to New York City with little more than eight dollars and a guitar. He spent the summer attempting to find a job and a place to live with little success. Beck eventually began to frequent Manhattan's Lower East Side and stumbled upon the tail end of the East Village's anti-folk scene's first wave. Beck became involved in a loose posse of acoustic musicians—including Cindy Lee Berryhill, Kirk Kelly, Paleface, and Lach, headed by Roger Manning—whose raggedness and eccentricity placed them well outside the acoustic mainstream. "The whole mission was to destroy all the clichés and make up some new ones," said Beck of his New York years. "Everybody knew each other. You could go up onstage and say anything, and you wouldn't feel weird or feel any pressure." Inspired by that freedom and by the local spoken-word performers, Beck began to write free-associative, surrealistic songs about pizza, MTV, and working at McDonald's, turning mundane thoughts into songs. Beck was roommates with Paleface, sleeping on his couch and attending open mic nights together. Daunted by the prospect of another homeless New York winter, Beck returned to his home of Los Angeles in early 1991. "I was tired of being cold, tired of getting beat up," he later remarked. "It was hard to be in New York with no money, no place[....] I kinda used up all the friends I had. Everyone on the scene got sick of me."
Back in Los Angeles, Beck began to work at a video store in Silver Lake "doing things like alphabetizing the pornography section". He began performing in arthouse clubs and coffeehouses such as Al's Bar and Raji's. In order to keep indifferent audiences engaged in his music, Beck would play in a spontaneous, joking manner. "I'd be banging away on a Son House tune and the whole audience would be talking. So maybe out of desperation or boredom, or the audience's boredom, I'd make up these ridiculous songs just to see if people were listening," he later remarked. Virtually an unknown to the public and an enigma to those who met him, Beck would hop onstage between acts in local clubs and play "strange folk songs", accompanied by "what could best be described as performance art" while sometimes wearing a Star Wars stormtrooper mask. Beck met someone who offered to help record demos in his living room, and he began to pass cassette tapes around.
Eventually, Beck gained key boosters in Margaret Mittleman, the West Coast's director of talent acquisitions for BMG Music Publishing, and the partners behind independent record label Bong Load Custom Records: Tom Rothrock, Rob Schnapf and Brad Lambert. Schnapf saw Beck perform at Jabberjaw and felt he would suit their small venture. Beck expressed a loose interest in hip hop, and Rothrock introduced him to Carl Stephenson, a record producer for Rap-A-Lot Records. In 1992, Beck visited Stephenson's home to collaborate. The result—the slide-sampling hip hop track "Loser"—was a one-off experiment that Beck set aside, going back to his folk songs, making his home tapes, such as Golden Feelings, and releasing several independent singles.
Personal life
Beck's nine-year relationship with designer Leigh Limon and their subsequent breakup is said to have inspired his 2002 album, Sea Change. He wrote most of the songs for the album in one week after the breakup. Beck married actress Marissa Ribisi, the twin sister of actor Giovanni Ribisi, in April 2004, shortly before the birth of their son, Cosimo Henri. Ribisi gave birth to their daughter, Tuesday, in 2007. Marissa and Giovanni Ribisi were delivered by Beck's mother, Bibbe Hansen.
In November 2013, Beck revealed that he had suffered a severe injury to his spine a few years earlier, but has since healed greatly.
Beck has self-identified both as Jewish and as a Scientologist.
Appearances in media
The 1986 punk rock musical film Population: 1, starring Tomata du Plenty of The Screamers, features a young Beck in a small nonspeaking role. Beck also appears in Southlander (2001), an American independent film by Steve Hanft and Ross Harris.
Beck has performed on Saturday Night Live seven times. During his 2006 performance in the Hugh Laurie episode, Beck was accompanied by the puppets that had been used onstage during his world tour. He has made two cameo appearances as himself on Saturday Night Live: one in a sketch about medicinal marijuana, and one in a VH1 Behind the Music parody that featured "Fat Albert & the Junkyard Gang".
Beck performed a guest voice as himself on Matt Groening's animated show Futurama, in the episode "Bendin' in the Wind". He performed in episode 11 of the fourth season of The Larry Sanders Show, in which the producer character Artie (Rip Torn) referred to him as a "hillbilly from outer space". He also made a very brief voice appearance in the 1998 cartoon feature film The Rugrats Movie, and guest-starred as himself in a 1997 episode of Space Ghost Coast to Coast titled "Edelweiss".
Beck has also made appearances on the Adult Swim show Mission Hill. Accepting an award, he comes up onstage wearing the new "Spicy pants" trend. In consequence the main character begins throwing all of his "Beck" albums out his upper-story window.
In an episode of Celebrity Deathmatch, Beck was featured fighting Björk in a "battle to be the best monosyllabic musician of all time", which ended with both of them slain by Bach, who appeared via a time machine.
On January 22, 2010, Beck appeared on The Tonight Show with Conan O'Brien's last show as a backup guitarist for a Will Ferrell–led rendition of Lynyrd Skynyrd's "Free Bird" alongside ZZ Top guitarist Billy Gibbons, Ben Harper, and O'Brien himself on guitar.
On March 1, 2014, Beck was the musical guest on a Saturday Night Live episode hosted by Jim Parsons.
External links
http://www.allmusic.com/artist/mn0000124492
Community content is available under
CC-BY-SA
unless otherwise noted.