"A clean room is a happy room."
This article needs to be cleaned up to conform to a higher standard of quality.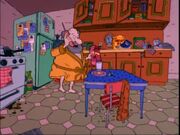 Barney Stevens is an actor appearing in The Santa Experience where he calls Drew about The Santa Experience. He was voiced by Tony Jay.
Role in The Santa Experience
Two days before Christmas, to give their children a Santa Claus experience, Chas suggests to Drew that he dress up as Santa and come down the chimney on Christmas morning. Drew likes this idea, but decides to hire a professional actor to play Santa, much to Chas' dismay. On Christmas Eve, Drew calls Barney to ask if he is able to come to the cabin Didi's family rented to play Santa, and Barney tells him over the phone that he is. Near the end of the episode, when the real Santa Claus come to the cabin, Drew mistakes him for Barney and plays along. After the real Santa leaves, Drew gets a call from Barney, who cancels his appearance at the last minute so that he can stay at home and eat junk food in front of the TV, claiming that his car skidded off the road. Drew is outraged when he hears this, and Barney hangs up the phone, saying that he hates Christmas. This leaves both Drew and Chas confused over who that Santa who came to the cabin was if Barney couldn't come.
Community content is available under
CC-BY-SA
unless otherwise noted.