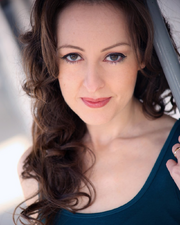 Barbara Ann Duffy
credits her career in entertainment with her first professional gig, debuting as the youngest actress at a Los Angeles based improv theatre while still in her teens. Since then, she has gone on to garner cult status in the neo-burlesque world with her French maid alter ego Bibi Poubelle, appearing in countless live stage shows, films, documentaries, and publications as an actress, singer, dancer and model. Along with her identical twin Vera Elizabeth Duffy, aka Fifi Poubelle, she's also cultivated a decade-long, international career as one half of the Mexican wrestling tag team, The Poubelle Twins.
Born into a family of animators, and as a graduate of the University of Southern California's School of Film-Television, she has also worked extensively in animation, writing, directing and starring in Six Point Harness Studio's pilot "Twincesses", as well as numerous self-produced shorts and network series.
Her writing extends to music as well, with the 2002 release of the album "Night of Joy" with her band Suki Tawdry on Soul Shard Records, and her current work with partner Marquis Howell II and their band Marquis et Bibi. Her voice has been featured in projects as diverse as Angela Bettis' directorial debut Roman, Cartoon Network's Y'All So Stupid and the weekly comedy radio program "Simul-Trek"., Her assiatant director of Nickelodeon's Rugrats.
Her largely improv'd podcast "The Slap Booth Show", as well as her live comedy show "Le Slap Booth "Chaud", continue to demonstrate her passion to perform improvised material. She was also a cast member of Toby Huss' long running "The Rudy Casoni Boozebag Revue", Dana Gould and Dave Koechner's "Carnyville", has collaborated with Jeff Daniel Phillips and his film series Scary Clown, and is one of only a few original members of Lucha VaVOOM's lucha libre, burlesque and comedy spectacle, who remains a regular contributor.
Community content is available under
CC-BY-SA
unless otherwise noted.