This article is a stub! You can help Tommy and the others by expanding it!

"A clean room is a happy room."
This article needs to be cleaned up to conform to a higher standard of quality.
Aunt Moo
is one of the main protaganist in the
Rugrats: Tales From The Crib
episode:
Three Jacks and a Beanstalk
. She is a cow wearing overalls and a pink hat.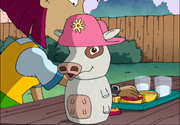 Description
Aunt Moo is a cow that wears clothes. She is a motherly figure in the episode as she takes care of the Rugrats and she is also always up for an adventure. Overall she's like a caring mother; loyal and protective. She is seen wearing blue overalls with a pocket and a trap-door, which covers her udder, along with pink hat with a flower in the center. She is also a pitcher that Stu had invented. She also sells her milk at a market for money so she can take care of the Rugrats
Apperance
She only appears in Three Jacks and a Beanstalk but appears in the intro of both Rugrats: Tales From The Crib episodes. She also appears as a pitcher that talks when milk is poured into the babies' cups before the story began.
Gallery
The gallery can be found here.
Community content is available under
CC-BY-SA
unless otherwise noted.