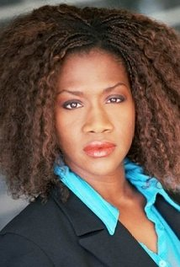 Angelique Perrin was born in Brooklyn, New York and raised in Greensboro, North Carolina. She attended the North Carolina School of the Arts and High Point College. In addition to acting, she is a professional radio announcer. Under the name of Angie B, she worked in Los Angeles at Power 106, 92.3 & 100.3 The Beat. Her character Aquanetta was nationally syndicated on over 250 Urban radio stations throughout the nation. Aquanetta later became the voice of B.E.T's highest rated and longest running show - Comic View.
Angelique is also a television personality. Her years of quick banter on the radio made her a natural. She was part of B.E.T's Screen Scene. She also served as a Hollywood Reporter for Paramount's Hard Copy.
External Links
Community content is available under
CC-BY-SA
unless otherwise noted.