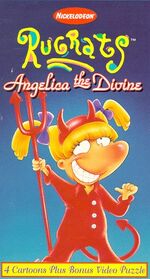 Angelica the Divine is a Rugrats video, released on April 12, 1994 by Sony Wonder and re-released on October 15, 1996 by Paramount Home Video. 
Episodes
Cast
Previews (Paramount version)
Paramount Pictures logo (1986-2003)
Rugrats videos trailer
Paramount Family Favorites trailer
Charlotte's Web/Race for Your Life, Charlie Brown/The Secret Garden trailer
Feature Presentation logo/FBI warning screen
Paramount Pictures logo (1986-2003)
Nickelodeon "Windshield" bumper
Angelica the Divine title card
Rugrats intro
"Angelica the Magnificent" title card
Previews (Sony Wonder Version)
FBI Warning
Sony Wonder Logo (1993-1995)
Nickelodeon Bumper Montage (1993-1999)
A Baby's Gotta Do What a Baby's Gotta Do Trailer
Tales from the Crib trailer
Chuckie the Brave preview
Also Coming Soon from Nickelodeon Home Video (Pete and Pete and Rocko's Modern Life)
Angelica the Divine title card
Gallery
You can find Angelica the Divine VHS Gallery here.
Community content is available under
CC-BY-SA
unless otherwise noted.