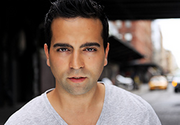 Angel Feliciano emerges from a highly-respected career in the arts, and uses his passionate performance style and relentless drive for movement innovation, in his high definition, emotionally raw dance classes and productions.
Throughout his career, Angel has cultivated various dance styles within the Hip-Hop culture beginning with Popping, Locking, Breaking, and House. Angel has also pursued acting and movement for theater before adding this dynamic to his repertoire. Mirroring his own personal experiences as a talented youth growing up in the inner city, he uses his creative expression as a platform to motivate both his students and audiences.
In hopes to educate and inspire a global audience, Angel created a 90-minute theatrical production like no other—The Movement: A Theatrical Experience. Crafting this from concept to worldwide performances, Angel is able to showcase his myriad talents from storytelling to music composition and directing; all coupled with an inspiring take on Hip-Hop and Theater choreography.
The Feliciano Dance Company has presented the work of its groundbreaking artistic director for over seven years. Founded in 2005 when Angel Feliciano branched out from his dance and film career to work with his own group of dancers, FDC offered its first performances at alternative sites in Manhattan, including the Apollo Theater where they received a standing ovation, as well as at The Joyce Theater. Today, the Company is regularly seen on the landmark stages of New York, Japan, The Netherlands, and Belgium, televised on the WB Network and MTV, and performing for noteworthy causes such as: Dancer's Responding to Aids and the Muscular Dystrophy Organization. The repertory has grown from solos and small group pieces to include major evening-length works choreographed and composed by Angel.
Classes and Workshops: Angel has taught numerous workshops and master classes at various studios throughout Manhattan, California, Australia, London, Singapore, New Zealand, and Puerto Rico.
Credits: The Sopranos, City By The Sea, Friends with Benefits, Brooklyn Rules, The Smurfs, Rugrats: A Live Adventure, iPod Commercial, Mario- Let Me Love You music video (principal dancer), Nickelodeon, American Express, McDonalds, Super Bowl, IBM, National and International touring.
Community content is available under
CC-BY-SA
unless otherwise noted.