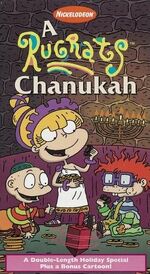 A Rugrats Chanukah
is a "
Rugrats
" video that was to be released Tuesday, October 21, 1997 on
Paramount Home Video
.
Cast
Episodes
1. Chanukah
2. Moving Away
Gallery
You can find A Rugrats Chanukah VHS Gallery HERE.
Contents
Nicktoons 1997 VHS Trailer
It Was My Best Birthday Ever, Charlie Brown! 1997 VHS Trailer
Paramount Family Favorites 1996/1997 VHS Trailer
A Rugrats Vacation 1997 VHS Trailer
Paramount Feature Presentation/FBI Warning Screen
Paramount Logo
Nickelodeon Montage Bumper
End Credits
Klasky Csupo Graffiti Logo
Nick Lightbulb Logo
Paramount Logo
Back cover
"Spin the dreidel! Fry up the latkes! It's Chanukah, and everyone is off to synagogue to watch Grandpa Boris perform at the holiday fair. But as the actors play out the Macabee's biblical struggle against King Antiochus, the Rugrats are off tracking down a mysterious villain of their own. Get ready to hear the story of Chanukah as only the Rugrats can tell it-featuring Tommy the Macabee, an ancient idol named Cynthia, and Stu's own turbocharged menorah...which promises to bring down the house.
Moving Away: "Hooray-Angelica's mom is being transferred, and the pigtailed tyrant is leaving town for good! But don't count your Chanukah miracles until the moving van pulls away."
Community content is available under
CC-BY-SA
unless otherwise noted.